NASCAR Racing 2003 Season
aka: 云斯顿赛车2003
The latest release from this series since 1999.
23 real-life tracks (including the new versions of New Hampshire International Speedway and Infineon Raceway) are included. The game has been reworked with an improved graphics and physics engine, developed in partnership with Goodyear Tire & Rubber Company and Jasper Motorsports. Tutorials will bring the player up to speed quickly, while driving aids will help them compete against NASCAR pros. An adaptive AI will keep the game challenging at all skill levels.
Multiplayer supports up to 42 players online in the same race.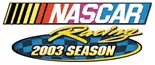 Credits (Windows version)
150 People (99 developers, 51 thanks) · View all
Design Director
Production Director
Producers
Associate Designer
Technical Lead
Art Director
General Manager
Principal Engineer
Engineering
Additional Engineering
Gameplay Production
Additional Production
Production Assistants
[ full credits ]
Critics
Average score: 84% (based on 15 ratings)
Players
Average score: 4.1 out of 5 (based on 19 ratings with 2 reviews)
The best and latest Papyrus NASCAR Racing simulation for OS X!

The Good
Papyrus did a good job with their NASCAR Racing 2002 Season 15 years ago, and this sequel showed some areas of improvement with the physics, graphics, sound, and AI.
Unlike Cartoon style Kart Racing games and Futuristic Racing games which are out-of-the-ordinary, this features a real NASCAR tradition, a Southern United States motorsport which feature stock cars. I can choose from either arcade-style or a full simulation to get in gear for the big NASCAR race!
I highly recommend using a force feedback driving wheel because there are many of them out there that are supported for the PowerPC OS X like the Logitech MOMO Force Feedback Driving Wheel. I don't have a driving wheel, and I have not tried the force feedback feature yet, but you actually feel like you are in a real stock car which mimics the actions found from there.
Don't forget about the Driving Lessons! If you are new to this game, be sure to check them out! There is a lot of information about driving a real stock car for those who haven't tried the game before, or want to do better at driving!
Also, there is a lot of realism options that you can't find on any other NASCAR Racing game! You choose the options to get the most out of each race!
Finally, 3D acceleration depends on the speed of the computer. I suggest going for a 1 GHz G4 (minimum), but I highly recommend a G5 with enough memory chips in the computer for the maximum racing performance.

The Bad
None.

The Bottom Line
This is one of the latest NASCAR racing games for the PowerPC Mac OS X. Papyrus is still the champion at realistic racing simulation games! If you are a NASCAR fan, then you should get one of those for your iMac G5/Power Mac G5 (if you have one of those) for the best experience! While you can still run this on your G4 Mac (I tested this game on my 1.5 GHz PowerBook G4 running Mac OS X 10.4.11), you will need to have a much faster processor and enough memory to play the game at it's best!
Also, did I mention the 2017 Monster Energy Series in the real races? If you are watching this year's races on TV, you think it is good that you have watched it! Also, after Papyrus closed down and the license took over by Electronic Arts in 2004, the latest Racing Simulation for Windows computers is NASCAR SimRacing (which is made by Electronic Arts under the EA Sports brand).
Currently, I have seen NASCAR Racing games in the 2010s that are exclusively released for game consoles, but maybe someday (or some year), we will see another NASCAR Racing game in the future that is specifically designed for the Macintosh and/or Windows. The racing tradition of the Southern United States lives on! And NASCAR Racing 2003 Season is still the latest racing simulation out there for the PowerPC OS X! I highly recommend this game to anyone who is a NASCAR fan, and even non-fans will enjoy it too!
Macintosh · by Katie Cadet (9959) · 2017
NR-2003 THE BEST PC NASCAR/RACING GAME!

The Good
I like best about this game is that you can custom make your car, cockpit, crew chief & tons of extra items you can download online or learn how to make.

The Bad
I like everything about the game really, but if could have made the game I would gone all out and added all the beer & smoking companies in there. Yea I know that it would have not been rated "E" .. it may be rated "T" or even "M". But hey everyone knows they're out there and it would have been one of the best selling games by just adding them two small things.

The Bottom Line
If you like racing or love racing then this is what you want.
Windows · by Robert Wolfe (83) · 2005
Trivia
Awards
GameSpy

2003 – PC Racing Simulation of the Year
Contribute
Know about this game? Add your expertise to help preserve this entry in video game history!