Humans 3: Evolution - Lost in Time
aka: Humans III: Evolution - Lost in Time...
Description
Zoo keepers from an alien world have scoured human history to steal 7 important figures from different epochs, and it is your job to rescue them. First you will have to explore four worlds to find the 6 pieces of their Time Machine, avoiding the chasing aliens.
Unlike Humans 2, this is a full sequel to the game known as Evolution: Dino Dudes on some systems with a new game engine, rather than merely a data disk with new levels.
As before the gameplay is influenced by Lemmings. Each of your characters have their own abilities, including fire-creation, grabbing and smashing, which must be used in conjunction to beat the puzzles before you. Passwords are offered for each level.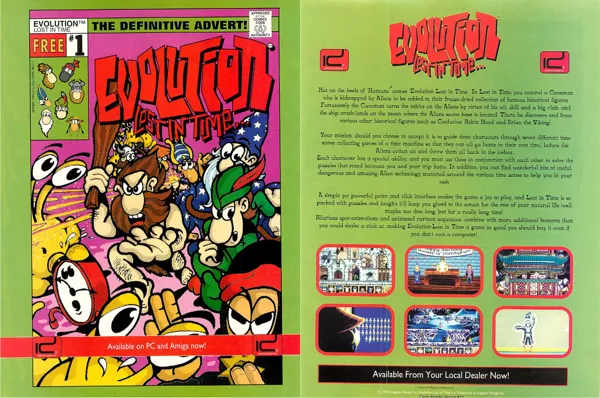 Credits (DOS version)
22 People · View all
PC Code
Intro / Sub Game
Amiga Code
Support Code
Concept Artwork
Graphics
Support Artists
Music
Sound FX
Maps & Levels
Tested by
[ full credits ]
Critics
Average score: 57% (based on 7 ratings)
Players
Average score: 3.2 out of 5 (based on 6 ratings with 0 reviews)
Be the first to review this game!
Contribute
Are you familiar with this game? Help document and preserve this entry in video game history!