Pirate Adventure
aka: Baie des pirates, Pirate Cove, Pirate's Adventure, Pirate's Cove, Pirates Adventure
This is adventure #2 in Scott Adam's text adventure series. In this adventure, you shuffle between three locales: an unremarkable (at first) London flat and two islands littered with dangerous critters and people. The goal of the game is to find the two pirate treasures on the treasure island. You move about and use objects by typing one or two word commands such as NORTH, INVENTORY, or GET SNEAKERS. You only have to type the first 3 letters of a command or object for the parser to recognize it.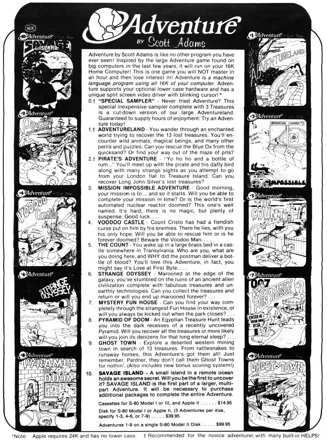 Credits (TRS-80 version)
6 People (4 developers, 2 thanks)
| | |
| --- | --- |
| By | |
| Dedicated to | |
| Cover Artwork (1979 release) | |
| Cover Artwork (1981 release) | |
Trivia
Sinclair ZX Spectrum version
A Spectrum version was advertised (with graphics) but seemingly never released. It was however released at a later date in text only form in the Scott Adams Scoops compilation.
Source code
Scott Adams published the BASIC source code to Pirate Adventure in the December 1980 issue of BYTE Magazine (pp. 192-212); the code sets up the virtual machine for the adventure and then largely consists of DATA-statements, thousands of numbers plugging values into the virtual machine. With this (somewhat obtuse) reference, many text adventure fans among BYTE's subscription base reverse-engineered the virtual machine and used it to help get a leg up on advancing their own homebrew text adventures.
Scans of the pages in question can be viewed online here.
Contribute
Know about this game? Add your expertise to help preserve this entry in video game history!
Contributors to this Entry
Game added by Droog.
Exidy Sorcerer added by Trypticon. BBC Micro, Electron added by S Olafsson. Commodore 16, Plus/4, TI-99/4A added by Kabushi. VIC-20, Atari 8-bit added by Xoleras. Commodore 64, Browser, TRS-80, Commodore PET/CBM added by Pseudo_Intellectual. TRS-80 CoCo added by me3D31337.
Additional contributors: Alaka, Pseudo_Intellectual, formercontrib, LepricahnsGold, S Olafsson.
Last modified February 22nd, 2023.