Quarky & Quaysoo's Turbo Science
Moby ID: 9821
Description
The indian-originated space elf Quarky O'Ghandi and his sister Quaysoo organized a team Los Turbos to beat well-known Das Liquidators, Cool City Maulers, and Valiant Cube. Answering correctly on questions, you as member of Los Turbos must earn money to move between checkpoints, and to win a race. Movement between check points can be done using five different means of transportation. Each of them has its own price and time needed to reach the checkpoint - those cheaper are in most cases slower. A several won races raise your rank and add chances to win a Turbo Science championship.
The game has a very educational aspect. In each checkpoint the player has to deal with different physics terms and questions. There are two difficulty levels of question depending on the player's knowledge and experience. The game has also a strategy aspect - earning more money on earlier, easier levels may be crucial to the whole race. The player does not have to take questions at every checkpoint as long as he has money to continue the race.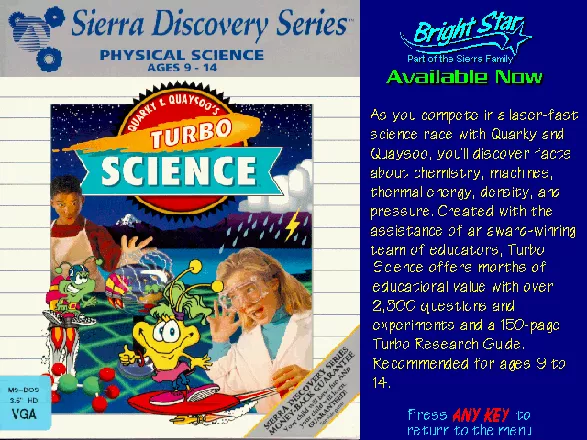 Credits (DOS version)
23 People · View all
Director
Designer
Assistant Director
Writer
Senior Software Engineer
Programming
Assistant Designer
Art Director
Characters & Backgrounds
Artists
Animators
Background Painters
Writers
Sounds
[ full credits ]
Critics
Average score: 76% (based on 2 ratings)
Players
Average score: 4.5 out of 5 (based on 7 ratings with 1 reviews)
Who knew that science could be so much fun?

The Good
Quarky & Quaysoo's Turbo Science is another game in Jeff Tunnell Production's short-lived Turbo Learning series, and I am going to assume that this game was released before Mega Math since that game is an improvement. For example, Mega Math features full speech, this hasn't; and the game was even distributed only on floppy disks.
The objective of Turbo Science is to win a series of races and climb the ranks, going from Squid to Turbo Science Champ. You are competing against three groups, known as Daz Liquidators, Cool City Maulers, and Valiant Cubed. This is no ordinary race, as you have to answer a series of question based on your knowledge of science. The higher your rank, the more longer the races are.
The questions will either be multiple choice, or will often be in the form of "Show [person] an example of a closed electrical circuit" while the game highlights three things in the vicinity. If you get an answer correct, you earn the money needed to progress to the next checkpoint. Get an answer incorrect and you lose money. If you don't know an answer, you can refer to the documentation that came with the game, which is over 100 pages long.
The main screen has several options allowing you to register your name, preview the opponents you have to race with, and practice before a race. The focus in this screen is the two titular characters, who call themselves "Los Turbos". You can only pick one of them as your teammate, although it doesn't matter which one you choose since both don't have any strengths or weaknesses. There is some nice background music which is different each time you play.
Choosing to preview your opponents take you to the locker room where you can get information on your opponent and find out about their background. I found it interesting to read their background. I am already familiar with Odessa King, the long-distant niece of Martin Luther King. She is the only one in a particular group, where other groups have two people.
What I enjoyed about each race are the different ways you can travel to each checkpoint. You can travel to the first checkpoint by car, then para-sail to the next checkpoint, jet-pack your way to checkpoint three, then finally scuba-dive to checkpoint four. It's totally up to you, but you need to make sure that you earn the required amount. Each method boasts cool animations that are worth watching more than once. Once you reach the finish lines, the animations are humorous.
The graphics are drawn in the same style as The Adventures of Willy Beamish, an earlier game Tunnell helped create for Dynamix. There are VCR-style control panels, boxed animations, and dialog boxes with white text on black background. The animations for the different characters are smooth. I enjoyed watching Quarky and Quaysoo dance around the screen whenever you get a science question correct.
I like all the music in the game, especially the "bagpipe" music on the main screen. The sound effects are cartoon-like, similar to those in Willy Beamish. This is the only Turbo Learning title hardly to have any speech. You just get "Whoa" and "Uh-oh" sounds from Quarky, the laughter in Clown Kitchen, and the "Drink Fizz" TV advertisement at the construction site.

The Bad
Nothing wrong with the game itself, although I think that Odessa is a cheat. In the final races, she beat me to a certain checkpoints, but I already saved enough to travel to the next and the following checkpoint. Still, she was able to get ahead of me after reaching the last checkpoint five seconds ago.

The Bottom Line
Quarky & Quaysoo's Turbo Science is a great educational game for kids. The object is to win a series of races, but progress is based on a series of questions that they must answer correctly. They have the option of looking up the Turbo Research Guide to find the answer they need. The graphics and sound are great, and the animations are brilliant. Maybe one day this would help them get a job in the science field.
DOS · by Katakis | カタキス (43051) · 2015
Contribute
Are you familiar with this game? Help document and preserve this entry in video game history!
Contributors to this Entry
Game added by POMAH.
Game added July 29th, 2003. Last modified August 17th, 2023.