It is the end of the Prohibition, and the beginning of the Great Depression in the United States of America. The Stranger is a mysterious operative of a secret organization known as "Spookhouse", founded by President Theodore Roosevelt to combat supernatural creatures. He investigates four cases, which can be played in any order and involve teaming up with a half-vampire to retrieve a powerful artifact from a castle in Germany, liberating a Wild West town from a zombie assault, fighting reanimated mobsters created by the mafia boss Al Capone in Chicago, and solving the mystery of a house with deadly traps.
Nocturne is an action game with survival horror elements. The game features 3D characters and pre-rendered backgrounds with fixed camera angles. The Stranger mostly fights with firearms, and has to confront monsters and mythological creatures. The player can opt to aim manually, or choose the auto-aim option from the menu.
Spellings
厄夜驚悚 - Chinese spelling (traditional)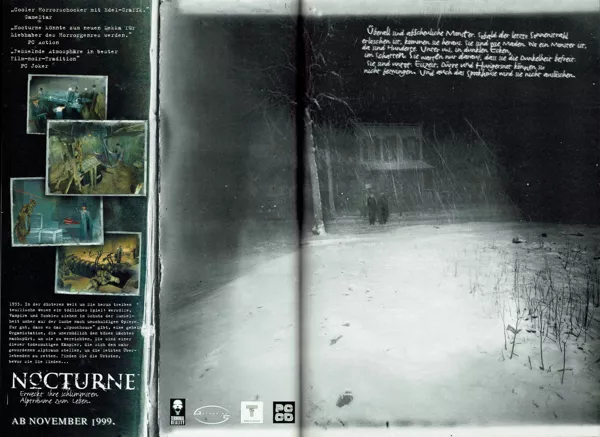 Credits (Windows version)
46 People (44 developers, 2 thanks) · View all
Lead Programming
Programming
Additional Programming
Level / Scenario Design
Additional Graphics / Artwork
Music / Sound
Marketing
Writing / Dialogue / Story
User manual produced and printed by

Mars Publishing Company[www.marspub.com]

User manual Authorship by
Manual Publisher
Manual Coordination and Design
Manual Graphic Artist
Playtesting
[ full credits ]
Critics
Average score: 80% (based on 31 ratings)
Players
Average score: 3.7 out of 5 (based on 34 ratings with 6 reviews)
Disappointing entry into the horror genre

The Good
Graphically, Nocturne is a beautiful game. The engine works great with lighting and shadows. Generally has good voice acting. Interesting premise and fairly good level design too.

The Bad
1. Nocturne really isn't that scary. Why? Because the main character doesn't give a damn. He doesn't react to the monsters, he just shoots them. So if he isn't concerned why should we be? Also, the only scares Nocturne can establish are the surprise scares- monsters jumping through windows, etc. No real sense of dread here.
Controls suck. The Nocturne engine looks great, but there are some serious clipping problems. Shooting works fine, and the character models sustain localized damage (ie, you can shoot someone's arm off,) but hand to hand combat is terrible. Running, walking, jumping are all way too challenging and inaccurate.

Bad camera. There are terrible camera angles in this game. Alone in the Dark, Resident Evil style camera angles work well within buildings, but sections of Nocturne involve running through the woods. This is horrible. Many times I fell to my death, only because the camera angle did not show how close I was to a cliff. The combination of poor camera angles and poor controls killed me more than any monster.


The Bottom Line
Poorly designed "survival horror" game focuses too much on graphics not enough on gameplay.
Windows · by Terrence Bosky (5375) · 2001
This game sure is purdy... but that's about it.

The Good
First of all, the graphics in this game are amazingly detailed. Everything from a balcony crumbling under your feet to the main character's trench coat waving in the wind seems to have been honed to realistic quality. The movement of all creatures (human or otherwise) on the screen are very real-looking. You don't see any of the inconsistencies in the graphics like being able to walk partially through a wall or whatnot. The storyline is equally well-developed. Everything that happens has a distinct, well-explained reason. It goes far beyond "Hey, there's werewolves here, go blow 'em up."

The Bad
The interface is brutal. If you don't have the instruction manual, you will never be able to play this game (and since my Dad's dog pooped on it, it looks like Nocturne will sit on a shelf and collect dust for quite a while). The camera angles are difficult as well. There are quite a few locations in which players will die several times because something is blocking their view of the scene. And, most notably, Nocturne just isn't very, well... Horrific. Most of the scary parts are monsters jumping out from around a corner. The plot itself doesn't really add any fear effect, mainly because of the attitude of the characters that there is no way in hell that you will ever fail in your mission.

The Bottom Line
Nocturne is a Steven King novel (maybe one of those that would get a movie deal) trapped in a computer game's body. It's great to look at, but actually playing it is something else. There is invariably a point in every level in which you will get stuck and just run around in circles until you give up. You'd be better off watching scary movies.
Windows · by Sam Tinianow (113) · 2001
Visually gorgeous survival horror adventure.

The Good
Nocturne has a rather interesting approach to it's layout. Rather than being put into a single, large adventure, you are given several smaller adventures which the main character, the stranger, experiences. This means you essentially get 4 different adventures within one overall story as well as a brief finale which opens up once the first 4 are all complete. This works very well and keeps the variety level high. The stranger is one of the coolest hero characters in any video game. Wearing a hat, dark glasses and a long trenchcoat he looks slightly reminisent of Caleb, the hero from 'Blood'. His dark, say what you think attitude and deadpan approach to conversation often leads to some funny lines. The graphics are utterly beautiful. Light shines realistically on walls and cloth flows wonderfully. The sound is equally impressive with some great orchestral music and beefy effects, the voice acting isn't bad either. The combat system in Nocturne is controlled with the mouse as your aiming device. This coupled with the laser slights that the stranger has equipped on his firearms make for the best and most intuitive system yet seen in a survival horror game, a genre usually plagued with poor combat.

The Bad
The action is very combat oriented so although there is a fair amount of adventuring to to aswell, you'll be firing a LOT of bullets by the end. Also the game isn't terribly scary. It has its moments but you never feel like you might be in serious trouble because you are always tooled up. There are points where you can get yourself in a lock if a group of creatures back you up against a wall and all you can do is wait 'till you die or restore a saved game. Finally, the wonderful graphics do come at a price in the system requirements. You're going to need a Pentium 3 and a decent graphics card to run this game at full speed and detail.

The Bottom Line
Nocturne is a great survival horror title that fans of the genre who like their fighting frenetic would be wise to check out.
Windows · by Sycada (177) · 2001
Trivia
Cover
The picture on Nocturne's Box is an overexposed photograph. There was a time when people thought that overexposed photos were proof of ghosts and otherworldly spirits.
Dreamcast version
Nocturne was going to be ported to the Sega Dreamcast. The console's early death killed the port as well.
Legacy
The three Blair Witch Project games use Nocturne's engine. In fact this was announced by the developers well in advance. That's why we see the characters from the "Spookhouse" again in Blair Witch Project 1. In Terminal Reality's later game Bloodrayne, the character of Svetlana Lupescu was originally going to be the protagonist, before Rayne was introduced.
Music
Much of the music heard in Nocturne is also heard in the background of various episodes of TV's Buffy the Vampire Slayer.
References
Like any good game with horror element this one has its fair share of horror references. The mobster-monsters are akin to Frankenstein. The vampires are from Dracula. There are also many references to H.P. Lovecraft, Doc Holiday went to Miskatonic University. And the mission in which The Stranger faces an Elder God.
Title
Ever wondered what Nocturne means? It's "a pensive, lyrical piece of music (especially for the piano)". It has got nothing to do with noctural or nightly activities.
TV series
In 2002, a television series based on Nocturne was in development by Collision Entertainment. As of 2012, it seems the project was cancelled. Their website description of the project was:
When Teddy Roosevelt's 1898 hunting expedition in Cuba exposes him to a werewolf, he later founds "The Spookhouse", a secret research facility to covertly investigate the supernatural. Decades later, FDR orders Chicago secret service agent and unsung Untouchable Tabby Kildaire to find the Spookhouse and shut it down. Tabby reluctantly agrees, beginning a journey more dark and disturbing than any case he's ever investigated and to his horror, learns that monsters are real. Based on the video game by Terminal Reality and G.O.D.
Awards
Computer Gaming World

March 2000 (Issue #188) – Coaster of the Year

GameSpy
Information also contributed by ClydeFrog, Mark Ennis, MasterMegid and Roger Wilco
Contribute
Are you familiar with this game? Help document and preserve this entry in video game history!