Muriel Tramis
aka: M. Tramis
Moby ID: 10719
Muriel Tramis, inhabitant of Fort-de-France in Martinique, emigrated to France after having obtained a scientific baccalaureate at the age of 16. She studied engineering at "l'ISEP" (Institut Supérieur d'Electronique de Paris) from 1975 till 1981. After her studies she worked for five years on anti-ship missiles at "Aérospatiale." She left in 1986 to study communication at the "Marketing Institute" in Paris.
As she had a passion for games, she decided to follow a training course at Coktel Vision. Soon she wanted to design her own stories and so her first adventure, Méwilo, was born, which was created in collaboration with Philippe Truca (Graphics) and Patrick Chamoiseau (Dialogues; also a former inhabitant of Martinique and future winner of the Prix Goncourt). For Méwilo, her first West-Indian adventure, she obtained "La médaille d'Argent de la ville de Paris" in 1987. In the game, the history of slaves plays an important part and it will become a theme in her work. For instance, in her next game Freedom: Rebels in the Darkness (1988), the main character is a rebellious black slave and in Lost in Time (1993), the female main character discovers that her great-great grandfather is a slave who was transported to a Caribbean island.
At Coktel Vision (and its successors) she worked in various roles, such as Designer and Project Manager, and she was credited for most of its adventure games, including Bargon Attack, Emmanuelle, Fascination, Geisha, Lost in Time, and Woodruff and The Schnibble of Azimuth. Various of these games show other distinctive marks of Tramis' designs: the use of female protagonists and of mildly erotic scenes. The last adventure game she contributed to was Urban Runner, published in 1996 (In 1993 Coktel Vision had become part of Sierra and its successors). At Coktel Tramis didn't restrict herself to the development of adventure games, as her work on the well-known Gobliins series shows. But as she was also convinced that there was a market for educational games, she created a math game for kids called La Bosse des Maths (1989), which was followed by games such as Adi, Adibou, and Adiboudchou, games that are still sold nowadays (2009).
In 1997 Tramis was selected as French prize winner by the EFBWO (European Federation of Black Women Business Owners) in London. She is also president of the association "Le Cercle des Lumières Noires," an association of black women that tries to support the black community.
Muriel Tramis worked for Coktel Vision and its subsidiary Tomahawk (1987-1993), Sierra/CUC/Cendent (1993-1998), Havas Interactive Europe (1999-2000) and Vivendi Universal Publishing (2000-2003).
In 2003 Tramis founded her own company called Avantilles, which develops educational software.
Credited on 19 games
Displaying most recent · View all
Gobliiins 4

(2009, Windows)

Thank you to
Best of Sierra Nr. 5

(1998, Windows)

We thank all, who participated in this issue, among others
Urban Runner

(1996, Windows 3.x)

Game Play
The Bizarre Adventures of Woodruff and the Schnibble

(1995, Windows 3.x)

Project Leader
Lost in Time

(1993, DOS)

Creation/Project Manager
Goblins Quest 3

(1993, DOS)

Created by
Gobliins 2: The Prince Buffoon

(1992, DOS)

Project Manager
Bargon Attack

(1992, Amiga)

Product Manager
Inca

(1992, DOS)

Project Manager
Gobliiins

(1991, Macintosh)

Conception
Fascination

(1991, Amiga)

Conception
Geisha

(1990, DOS)

Authoress
Cougar Force

(1990, DOS)

Project Manager
Oliver & Compagnie

(1989, Amiga)

Conception
Asterix: Operation Getafix

(1989, Atari ST)

Conception
Legend of Djel

(1989, DOS)

Design
Emmanuelle: A Game of Eroticism

(1989, Atari ST)

Scenario
Freedom: Rebels in the Darkness

(1988, Atari ST)

Production (Réalisation)
Méwilo

(1987, Amstrad CPC)

Author
[ full credits ]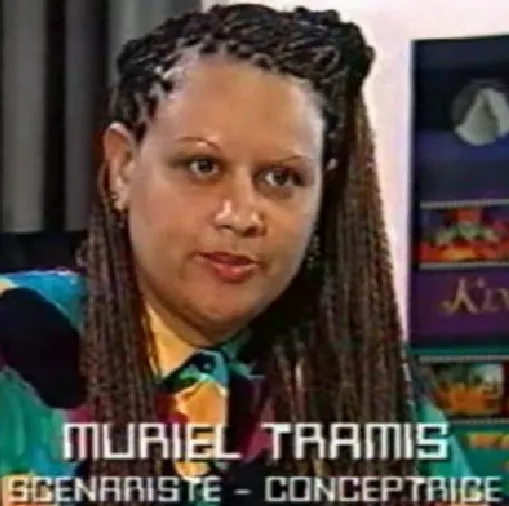 Contribute
Add your expertise to help preserve video game history! You can submit a correction or add the following: