Jose Villeta
Jose Villeta graduated from the Massachusetts Institute of Technology with a Bachelor of Science degree in Aeronautical and Astronautical Engineering. He also graduated from George Washington University, based at NASA Langley Research Center in Virginia, where he received a Master of Science degree from the Aeronautical Engineering Department.
Jose moved to Los Angeles, to work for Rockwell International at NASA Dryden on the Edwards Air Force base as Flight Dynamics Engineer. Jose worked on the experimental X-31 Enhanced Maneuverable Fighter aircraft.
In August of 1994, he helped secure the Virgin contract and started Black Ops with John Botti. Jose programmed all flight dynamics and controls, artificial intelligence, 3D deformation animation system on the Agile Warrior F111X title. He then went on to design and be the Lead Programmer for the Treasures of the Deep, and Warpath titles. Jose managed development of the March Madness games, helped produce Tomorrow Never Dies, and was involved in producing and programming on 007: The World is Not Enough. He continued to work as Vice President of Research and Development until 2006. In this capacity he helped acquire projects and managed the development of PS2 and Xbox titles like Street Hoops, The Xfiles: Resist or Serve, Terminator 3, and AND 1 Streetball among others.
Today Jose works as a Technical Director at Heavy Iron Studios, a division of THQ. Currently working on next-generation titles.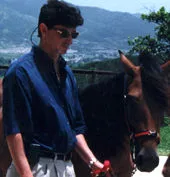 Contribute
Add your expertise to help preserve video game history! You can submit a correction or add the following: