Robert Pardo
aka: Rob Pardo
Robert Pardo is Blizzard Entertainment Vice President of Game Design. Leading a group of talented and highly experienced development teams, Pardo supervises the overall design and implementation of gameplay features for every Blizzard game, including World of Warcraft, the world's most popular subscription-based massively multiplayer online role-playing game.
Pardo has been contributing to the success of Blizzard's games since 1997, when he joined the company as a designer and strike-team member on the real-time strategy game StarCraft. When Blizzard decided to develop an expansion set for StarCraft, Pardo was named lead designer on that project (StarCraft: Brood War). Following the worldwide success of StarCraft games, Pardo went on to oversee the design of another Blizzard bestseller, Warcraft III: Reign of Chaos, as well as its expansion set, Warcraft III: The Frozen Throne. Both products received high critical scores from players and game-industry publications alike, in addition to becoming Blizzard's seventh and eighth titles to achieve more than a million copies in sales.
From there, Pardo moved into his current position as Vice President of Game Design. In this role, he has led the design for World of Warcraft and the expansion The Burning Crusade while continuing to supervise the progress of Blizzard's PC and console titles in development.
Pardo earned a bachelor of arts degree in criminology, law, and society from the University of California--Irvine in 1996.
He left Blizzard in July 2014.
Credited on 40 games
Displaying most recent · View all
WarCraft III: Reforged

(2020, Windows)

Special Thanks
World of WarCraft: Battle for Azeroth

(2018, Windows)

Special Thanks
StarCraft: Remastered

(2017, Windows)

Special Thanks
StarCraft II: Nova Covert Ops - Mission Pack 3

(2016, Windows)

Special Thanks
World of WarCraft: Legion

(2016, Windows)

Special Thanks
Overwatch

(2016, Windows)

The Overwatch team would like to thank the Project Titan team for their contributions
StarCraft II: Legacy of the Void

(2015, Windows)

Special Thanks
Heroes of the Storm

(2015, Windows)

Special Thanks
World of WarCraft: Warlords of Draenor

(2014, Windows)

Additional Designers
Diablo III: Reaper of Souls - Ultimate Evil Edition

(2014, PlayStation 4)

Strike Team
Diablo III: Reaper of Souls

(2014, Windows)

Strike Team
Hearthstone: Heroes of WarCraft

(2014, Windows)

Executive Producers
StarCraft II: Heart of the Swarm

(2013, Windows)

Chief Creative Offices
Call of Duty: Black Ops II

(2012, Xbox 360)

Special Thanks
Diablo III

(2012, Windows)

Executive Producer
World of WarCraft: Cataclysm

(2010, Windows)

Executive Vice President of Game Design
StarCraft II: Wings of Liberty

(2010, Windows)

Design Director
World of WarCraft: Wrath of the Lich King

(2008, Windows)

EVP, Game Design
World of WarCraft: The Burning Crusade

(2007, Macintosh)

Lead Designers
World of WarCraft

(2004, Windows)

Lead Designers
[ full credits ]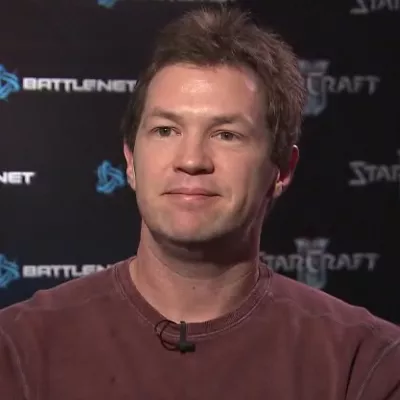 Frequent Collaborators
People
---
Companies
Contribute
Add your expertise to help preserve video game history! You can submit a correction or add the following: