Phil Saunders
Moby ID: 6803
Phil Saunders studied at the Ontario College of Art and Design in Toronto, where he graduated with honors 1991.
While at OCA he began his professional career doing freelance and in-house design work for Toronto design studios Keith Muller and Associates and the AXIS Group, working on products ranging from office furniture for Steelcase, to pagers for Cantel, a Canadian telecommunications firm. He also gained his first film industry experience (both good and bad!), as a conceptual designer at Light and Motion, Inc., a Toronto based special-effects house. This lead to a long-standing relationship with Interactive Entertainment, Inc. (now SimEx Digital), a theatrical simulation ride company for whom he did design for several rides, including Deep-Sea Adventure in Fujiku, Japan; Terabyss: A Rocker's Underwater Adventure in Kobe, Japan and SeaTrek in Toronto.
During his senior year, he was hired by Nissan Design International, and moved out to San Diego upon graduating. After four and a half years as a car designer, working on such projects as the Pathfinder and the Quest/Mercury Villager minivan, he decided it was time to focus fully on cutting-edge entertainment, and joined Presto full-time as Creative Director in November of 1995.
His first involvement with Presto though was in 1992, where was initially brought on as a consultant to design The Journeyman Project's numerous and detailed futuristic environments, props and vehicles. With the success of TJP, Presto decided to create a sequel, Buried in Time, and this time his responsibilities expanded to include creative direction of the project, designing the suit, interface and five of the seven environments, as well as co-writing the story and some of the dialog.
After BIT, he led the company's creative direction through various award-winning titles, culminating in Myst 3: Exile, which was a #1 bestseller, and has won several "Adventure Game of the Year" honors as well as "Best Art Direction" from Computer Games Magazine. He was responsible for many aspects of production, including game design, story development, art direction, concept design and live-action directing. His last Presto project was Whacked!, a real-time 3-D action game, released by Microsoft on the X-Box. This was a fun break for him, as it gave him the chance to stretch his experience into designing cartoon worlds and characters and directing comedy.
Since then Saunders works as a freelance concept artist, designer, director and writer, based in Santa Monica, California. His latest venture, Saunders Creative, is a way for him to provide his years of experience in entertainment, automotive and product design to a broader client base, and to focus on his true passion, filmmaking.
The past years he has been working as Illustrator and Concept Artist on several hit films, including Jarhead, Zathura: A Space Adventure, Spider-Man 3, Iron Man, TRON 2, and John Carter of Mars. Like before for the JPM games, he designed the hero suit for Iron Man.
Credited on 12 games
Displaying most recent · View all
The Journeyman Project: Pegasus Prime

(2014, Windows)

Lead Conceptual Designer - Mars / NORAD / WSC
Reset Generation

(2008, N-Gage (service))

Monster Trainer Character Designer
Myst V: End of Ages (Limited Edition)

(2005, Windows)

Myst 3 Interviews (Presto Studios)
Whacked!

(2002, Xbox)

Design
Myst III: Exile

(2001, Windows)

Creative Director
Star Trek: Hidden Evil

(1999, Windows)

Additional Production Assistance
Stephen King's F13: Ctrl, Alt, ...Shiver

(1999, Windows)

Conceptual Designer
The Journeyman Project 3: Legacy of Time

(1998, Windows)

Conceptual Designer
Gundam 0079: The War for Earth

(1996, Macintosh)

Car Design
The Journeyman Project 2: Buried in Time

(1995, Windows 3.x)

Story by
The Journeyman Project: Turbo!

(1994, Windows 3.x)

Additional Graphics / Artwork
The Journeyman Project

(1993, Macintosh)

Conceptual Design
[ full credits ]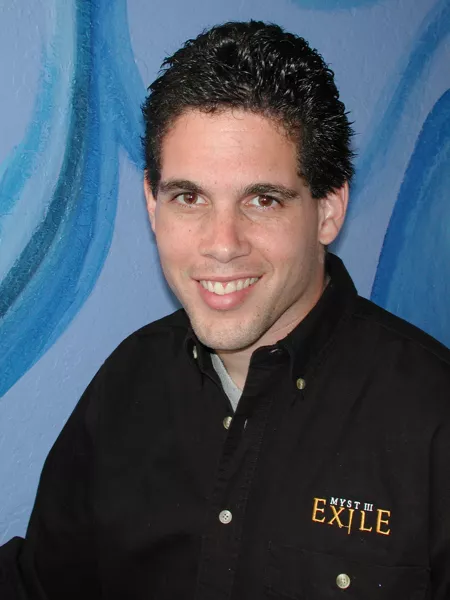 Contribute
Add your expertise to help preserve video game history! You can submit a correction or add the following: