Spellcasting 201: The Sorcerer's Appliance
Having recovered the Sorcerer's Appliance in the previous game, Ernie Eaglebeak begins his sophomore year at the Sorcerer University. Having chosen Hu Delta Phart for his fraternity pledge, Ernie is given exceedingly difficult hazing rituals by the Pledgemaster Chris Cowpatty. Meanwhile, Ernie's wise adviser, Professor Otto Tickingclock, who became the president of SU, asks him to unveil the true secrets of the Sorcerer's Appliance.
Like its predecessor, Spellcasting 201 is an interactive fiction game in which the protagonist's roster of spells will come in handy. A list of commands and objects (including spells) is on the left of the screen to be chosen from. Movement is in the eight compass directions. Ernie must make contact with the girls, and solve tricky puzzles. Nice Mode turns off the more lurid details featured in Naughty Mode. As opposed to the previous title, the entire game takes place within the vast campus grounds, allowing more freedom of movement but also increasing the difficulty.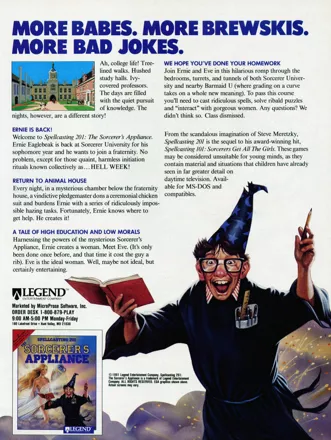 Credits (DOS version)
22 People · View all
Writer
Art
Music
System Architecture
System Programming
Graphics System Development
Music System Development
AdLib Transcription
Sound Effects
Additional Game Programming
Production Coordination
Cover Art
Testing Coordination
Testing
Additional Testing
[ full credits ]
Contribute
Know about this game? Add your expertise to help preserve this entry in video game history!