Most Researched Games past week [ feed ]
Most Researched Professionals past week [ feed ]

| | |
| --- | --- |
| | Courtney Woods |
| | Mike Kasprzak |
| | Ian Malcolm |
| | Fumihide Aoki |
| | Yasuhiro Kitao |
| | Mark Hogben |
| | Aaron Garbut |
| | Naseer Alkhouri |
| | Jason High |
| | Samuel Villarreal |
Most Researched Companies past week [feed ]
Recent games, images, credits, trivia, groups

[ more ]
| | |
| --- | --- |
| Screenshots | 1,013,453 |
| Cover Art | 779,639 |
| Promo Art | 950,785 |
| Videos | 23,664 |
| Player Reviews | 16,232 |
| Critic Reviews | 514,870 |
| Product Codes | 200,105 |
| Prices | 36,980 |
| Identifiers | 88,871 |
[ more ]
News
In November we added 55,224 approved contributions to the database - a new monthly record! The prior record was set in June with 48,800. Well done everyone!
v2023.12.02 changelog:
Added ability to filter Most Wanted by games from your collection (including your entire collection or a specific list!)
Added "Special Edition" game relation type (example)
Added the Atari VCS platform to the database
Added background task to start collecting prices from Steam games
Added notes/descriptions to game relation types
Changed game rankings to only include ranked games (so, for example, Big Rigs is now ranked #23,547 of #23,547 and Baldur's Gate III is #1 of #23,547)
Changed new game submission timeout from 3 weeks to 6 weeks
WIP items attached to WIP games will no longer be auto-rejected
Updated MobyPro collaboration UIs (example) to use tables instead of lists
Fixed printables not accepting new character limit on the client side
Fixed game relation contribution paging and tally
Fixed creating new people in credits with copyright lines
Fixed HTML not rendering correctly on image captions
Fixed deleted forum post display

Fixed "More" links unwanted wrapping in certain cases
Fixed missing game covers in collaboration UIs
The new Game Relations feature has been a hit! Already 7,908 expansion / DLC / add-on relations have been linked up and approved.
Today's release includes some updates with that contribution tool, including the ability to add with game id and a new "Unofficial Add-on" category. Plus you can now view your history of game relation contributions via your profile page.
The game browser now excludes add-ons by default, but can be enabled with a checkbox and will remember your preference.
Similar to the Game Relations tool, approved and pending submissions have been added to the Product Code contribution tool. We'll continue to add these to other tools over time.
Changelog:
Added database stats for Add-ons and Identifiers
Added "Include Add-ons" option to the game browser (off by default and will remember your preference if you change it)
Added ability to add a Game Relation with a game id
Added Game Relations page to user contributions profile
Added "Unofficial Add-on" option to Game Relations and renamed "DLC/Addon" to "Official Add-on"
Added pending and approved submissions to Product Code contribution tool
Added confirmation step to image delete
Added ability to export a game collection from its own page (also available via the collection overview/manager)
Added Moby ID to game pages beneath the title (same as people and company pages)
Fixed revision history views
Fixed displaying portraits without captions/sources
Fixed submitting approval comments with credits
Fixed filter API by titles starting with 'the'
Fixed deleting rejected games/platforms
Misc. other bug fixes, UI fixes, polish
Admin: Printables can now be twice as long (128k chars, up from 65k)
We now have the ability to handle game relations! Starting with Expansions/DLC/Addons (more types to come). So you can associate a parent game with its addons and vice versa. This new tool is called "Game Relation" and can be found on the game overview page and via the Contribute tab.
Example relation: Pharaoh has an expansion called Cleopatra: Queen of the Nile. I set up this relation and now if you go to Pharaoh's page you will see Cleopatra linked and conversely if you go to Cleopatra's page you will see Pharaoh linked.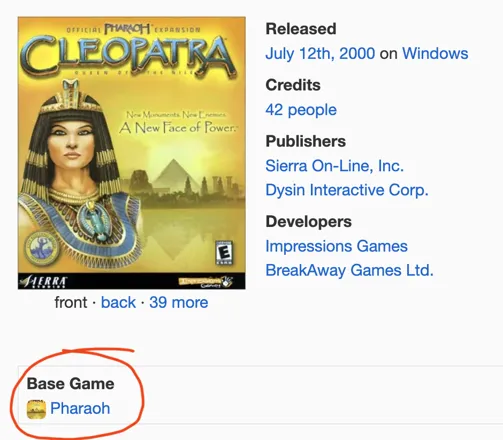 Currently you can only select one DLC/Addon at a time when creating a relation, which will be tedious for cases that have a lot of DLC like Rock Band and Cities: Skylines. We'll update the tool soon to handle multiple selections at once. In the meantime you may want to start with other games where the number of addons are more manageable!
Changelog:
Added game relations feature: Starting with Expansions/DLC/Addons
Added Parent Game filter to Most Wanted
Added Atom feeds for most researched games, people and companies
Added Moby ID to disambiguation step in credits form
Improved error messaging with some contribution tools
Fixed submitting photos without a caption
Fixed Nintendo scraper
Fixed issue with player review UI not wrapping properly in certain cases
Fixed issue with empty names sometimes getting added to credits
Fixed critic scores with lowest score best
Fixed Steam unlink feature for game collections
Fixed bug with person<>person collaborations page
Allow empty credit groups/titles when saving as work-in-progress
Approvers: Added game relations queue
Approvers: New tool for linking people with Moby user accounts
Database migration to automatically extract dates from photo captions
Misc. backend updates, UI fixes/tweaks, polish
[ more ]