The fourth game in the Twisted Metal series! The Twisted Metal tournament's boss since the beginning, Calypso, has been overthrown by the maniacal clown Sweet Tooth and his circus buddies with there wish for winning the tournament. Now Sweet Tooth has the chance to hold his own tournament, with more powerful vehicles, tons of battleground, and a whole new selection of drivers and old legends like thumper, axel, auger and even minion and much more. The prize is the same - Sweet Tooth will grant any wish the winner asks for! But this time, Calypso's participating in the tournament...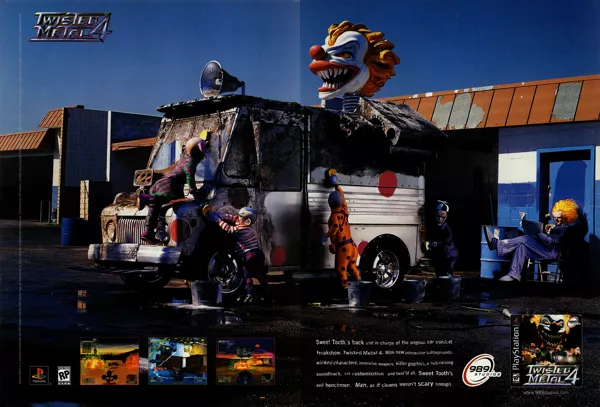 Credits (PlayStation version)
121 People (97 developers, 24 thanks) · View all
Lead Engineer
Software Engineering
Lead Artist
Artists
Producers
Assistant Producers
Director of Development
Audio
Music Director
Tools Support
Storyline Scripting
[ full credits ]
Critics
Average score: 63% (based on 6 ratings)
Players
Average score: 3.5 out of 5 (based on 12 ratings with 1 reviews)
Original, if rather repetitive...

The Good
The game offers a solid platform for dogfighting. You can get close up to your opponents and plant mines, hit them from far away with homing missiles, and even blow them out of the sky with customized attacks!
The graphics, while not spectacular, offer enough to get you through the various levels, all of which contain several secret locations or weapons. One of my personal favourites of these is the Crane in Construction Yard.
One of it's nicest features is the ability to, once started a level, take out the game CD and replace it with your own music CD, so you can enjoy your own tunes while playing. Also, if you happen to like the music on the disc itself, pop it in your CD player and enjoy!
Overall, a decent, if not terribly exciting game.

The Bad
If I were to choose one bad thing about this game, it would have to be how boring it gets. It gets slow... fast. The lack of variety is most obvious in the Design Your Own Vehicle stage, in which you can choose from 3 Main models (Small, Medium, Large). There you can choose only a couple makes and colour differences.
Another annoying feature is the split screen. Instead of the now, more traditional, vertical split, it uses the horizontal. Now I've played other games (Gran Turismo, Burnout 3, etc) where this works just fine. However, with TM4, I can hardly use it without getting extremely frustrated. Coupled with this is the lack of ability to change angles, or camera locations, making it even harder to find out where the hell you are.

The Bottom Line
If you're looking for a cool, easy game to blow up other cars in - this is the one for you. As long as you're willing to play alone!
PlayStation · by Slinker (18) · 2006
Trivia
Rob Zombie
Since he contributed so much music for the game, the developers made Rob Zombie a playable character.
Contribute
Are you familiar with this game? Help document and preserve this entry in video game history!