The Planet Novenia has been attacked by the Egrons, who snuck in by disguising their craft as the protected Starglider species, which Novenia's automated defenses were programmed not to shoot.
Your task is to fight them off using only an obsolete Airborne Ground Attack Vehicle. This was designed as the ultimate combat machine, with sophisticated hardware up to Draziw Yarg's high standards. It has a fully-rechargeable shield, plasma drive unit, an inbuilt scanner and 10,000-sector map, a top speed of 2550 Urads and two homing missiles.
The game is viewed from within AGAV's cockpit, with control over speed, weapon targeting and firing. There are several control options to decide exactly how the craft works, with fixed or floating sighting, and the option of automatic centering, allowing you to balance the game between easy sighting and advanced shooting ranges.
Repair depots must be visited frequently, as they can refill the weapon bays as well as repairing the ship. Crucially, the Egron Stargliders need 3 missiles to shoot down, so at least 1 visit to a depot is required to complete this job, at which point you move up to the next, harder, level.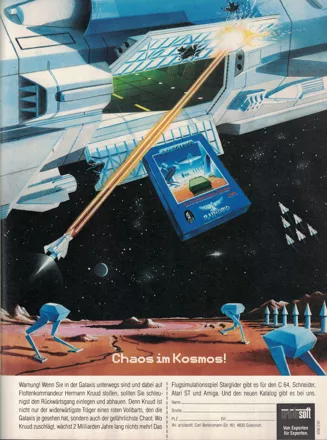 Credits (Commodore 64 version)
7 People
| | |
| --- | --- |
| Original Program | |
| Commodore Version | |
| Starglider Novella | |
| Graphic Design | |
| Title Screen | |
| Music | |
| Documentation | |
Trivia
Farewell message
When the player exits the game to DOS, the following message appears just above the command prompt: "Thank you for playing StarGlider - Have a nice DOS!"
Get Fresh
The game was shown regularly on the Saturday morning ITV kid's show Get Fresh. To quote from Rainbird's official memorial site, "two players had to battle at the same time get the highest score in a specially modified time-restricted version of the game". This was probably the first instance in UK television history of a computer game being included on a television show not as a freaky high-tech novelty, but as a organic part of youth culture, as relevant as pop music or BMX.
Awards
Power Play

1987 - #2 Best Amiga Game '87
1987 - Best Digitized Voice (Clare Edgeley)

Commodore Format

July 1993 (Issue 34) - Modern Classics: Sims
Information also contributed by MS-DOS Guru.
Contribute
Know about this game? Add your expertise to help preserve this entry in video game history!