Osiris was once a pharaoh of the Old Egypt, ruling the land in happiness, as it enjoyed great prosperity. But his evil brother Set was envious of him. He killed Osiris and cut his body in pieces. Now the ka (soul) of Osiris is standing in front of the entrance to the World of the Dead, unable to find solace. Defeating Set is the only way to end the torment. But in order to do that, Osiris will have to return his body, scattered around the land, devoured by wild animals. He will have to restore his body, absorb the spirits of animals, and challenge his treacherous brother in a final battle...
The Seven Spirits of Ra is a follow-up to ICON: Quest for the RING, sharing much of its predecessor's gameplay and interface features. The player navigates Osiris through various environments in ancient Egypt, in a mixture of top-down and side-scrolling views, eliminating enemies in simple action-based combat. The role-playing element is less noticeable in the game compared to its predecessor; however, the world is larger and offers more exploration possibilities.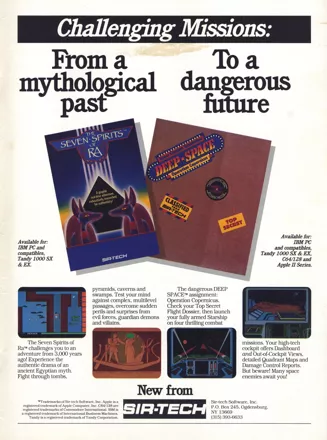 Credits (DOS version)
5 People
| | |
| --- | --- |
| The Authors | |
| Player's Guide | |
| Original Music | |
Trivia
This game was the spiritual successor to ICON: Quest for the Ring. It was made by the same people and used their unique graphics technique. In order to get a true 16 color graphics mode with a CGA card, they used the 40-column text mode, programmed the registers to reduce the character cell height from 8 pixels to 2 pixels, set the desired foreground and background colors for each character cell, and then picked the best character pattern stored in the CGA's character generator. Using this method they kept a true 320x200 resolution. Unlike ICON, this game does use regular 4-color CGA graphics at some points.
Other companies such as Windmill Software used the same method but started with the 80 column text mode, as a result their games supported an effective resolution of 160x100.
Contribute
Know about this game? Add your expertise to help preserve this entry in video game history!
Contributors to this Entry
Game added by Will D.
Additional contributors: Great Hierophant.
Game added April 6th, 2000. Last modified February 22nd, 2023.