Midnight Nowhere
aka: Black Oasis, Chornyj Oasis
In Midnight Nowhere, you play a man suffering from amnesia who wakes up in the morgue. Half-naked, dead bodies and blood are everywhere. Something is very wrong, but he hasn't a clue what happened, where he is or even who he is. The city of Black Lake, Russia, is in a state of panic because no one has any idea who or what is behind the horrific slaughters - now numbering in the hundreds. Is it a serial killer? ... or is it something even more evil?
You play this point-and-click, mouse-driven game in 3rd-person perspective. Features include animated characters, a mix of 2D and 3D graphical backgrounds and a mood-enhancing soundtrack. To advance the story, find and use inventory objects, read different types of documents, solve various types of puzzles, and talk to numerous characters.
Falling solidly under the Horror category, the subject matter is not for the faint of heart. The strong language and adult sexual themes are in keeping with today's "R-rated" films.
Spellings
Чёрный Оазис - Russian spelling
午夜夺命 - Chinese spelling (simplified)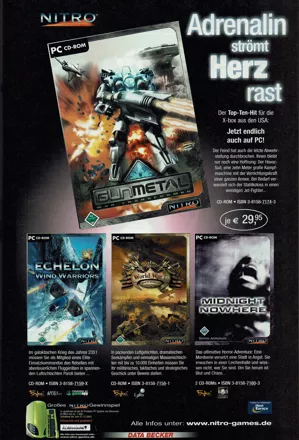 Credits (Windows version)
96 People (75 developers, 21 thanks) · View all
Director
Project Manager
Leading Programmer
Scripts Programming
Game Assembly
Chief Artist of the Project
3D Graphics and Scene Animation
Hero Modelling
Heroes Texturing
Animation
Video
2D Graphics
Sound Effects
Administrative Team
[ full credits ]
Trivia
Title
The working title of Midnight Nowhere, Black Oasis, never really left the final version of the game. The title in the Readme file is shown as OASIS and that word is also contained in the name of the play disc (CD 2) while it sits in your drive.
However, it still remains the official original Russian title (Chornyj Oasis). The title Midnight Nowhere is unknown in Russia.
Information also contributed by Unicorn Lynx.
Contribute
Know about this game? Add your expertise to help preserve this entry in video game history!