Maritrini, Freelance Monster Slayer en «Las increíbles vicisitudes de despertarse resacosa con Fred en la cama y tener que llegar más o menos puntual a la prueba de «Monstruos Vigorosos de Pechos Lustrosos»» featuring Los Fratelli
aka: Maritrini, Freelance Monster Slayer: Precuela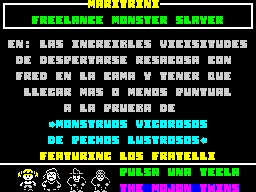 Released

Publishers

Developers
Genre

Perspective

Visual

Interface
Description
Maritrini, Freelance Monster Slayer en «Las increíbles vicisitudes de despertarse resacosa con Fred en la cama y tener que llegar más o menos puntual a la prueba de «Monstruos Vigorosos de Pechos Lustrosos»» featuring Los Fratelli is a prequel to Maritrini: Freelance Monster Slayer. When acress Maritrini wakes up, with a hangover as usual, she is in her mansion with a one night stand by her side. She needs to hurry up to make it to the audition of the movie Vigorous Monsters with Shiny, Manly Chests. But before she can leave she needs to complete some tasks at home.
The player guides Maritrini through her mansion that consists of several single-screen rooms combined horizontally and vertically using the flip-screen mechanic with an amount of freedom to explore. She needs four objects before she can leave the house: coffee for her hangover, an iron to fix her clothes, a pack of cigarettes as breakfast and a battery to open the electric door. Only then can she get inside her car and leave the house. Maritrini starts with ten lives and ten bombs. There are enemies to take care of, such as the gangster-like Fratellis who are in her house and the evil pig of George Clooney. She can drop bombs to get them to leave you alone. Some other items can be picked up for some environment based puzzle-solving: keys are used to open locked doors, matches are used to burn dirty clothes blocking passages, and a dog can be given bones to get it to move.
Credits (ZX Spectrum version)
6 People (4 developers, 2 thanks)
| | |
| --- | --- |
| Design | |
| Program | |
| Graphics | |
| Music | |
| Testing | |
| Dedicated to | |
| Powered by | |
| Introducing | The Super Babazoominator Construction Kit library |
Contribute
Know about this game? Add your expertise to help preserve this entry in video game history!
Contributors to this Entry
Game added by Sciere.
Game added August 14th, 2019. Last modified February 13th, 2023.