Kid Gloves II: The Journey Back
Description
A platform game resembling Mario and Wonderboy quite strongly. Kid must rescue the woman he loves by crossing 6 worlds, each split into 4 levels. There are a range of baddies to beat, following pre-set attack patterns or just staying on the spot, to be killed using your sword.
Once killed most release things like tokens, keys (sometimes required to open end-of-level doors), apples (for extra energy) and occasionally poison. There are lots of semi-hidden sections and bonus areas to find and explore, including bonus arcade games and fruit machines. Every world ends with a boss.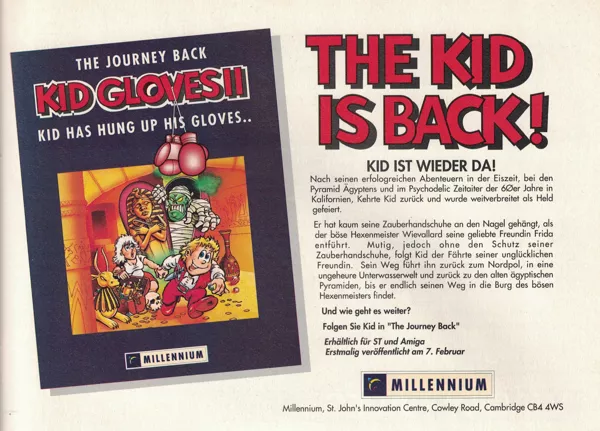 Credits (Amiga version)
7 People
| | |
| --- | --- |
| Coding | |
| Design | |
| Graphics | |
| Music | |
| Sound FX | |
| Cover Artwork | |
| Package design | |
Trivia
Cancelled versions
The game was also planned for 8-bit systems. The Spectrum version was previewed by Crash! magazine, and seemed to be at an advanced stage. The C64 version got far enough for a scrolling demo of the first level to be viewable.
Development
The game was originally called Little Beau, and was due to be released by Digital Magic, before they folded in late 1991. Millenium acquired the game, and made some small changes to make it a Kid Gloves sequel, and released it as such.
Contribute
Know about this game? Add your expertise to help preserve this entry in video game history!