Adventures of TRON
aka: Adventures on GX-12
Description
Adventures of TRON is based on the motion picture TRON from Walt Disney Productions.
The game environment consists of 4 floors, each with flying bits as well as enemy MCP attackers. The objective of the game is to control TRON in a maze of platforms and elevators while trying to intercept the flying bits (intercepting bits on higher floors are awarded higher points).
Dodge enemy MCP attackers by jumping, using elevators, and hitching a ride on the Solar Sailor. Capturing all 7 bits will take the player to the next level, with added speed and difficulty. The player has a total of 4 lives in play.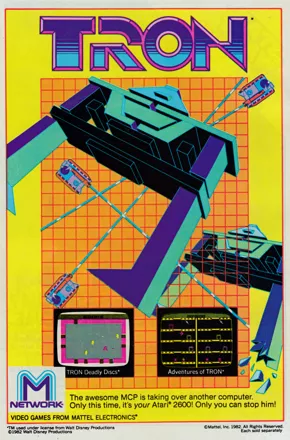 Credits (Atari 2600 version)
Trivia
Development
Originally, this game was going to be an Atari 2600 version of the Intellivision game TRON: Maze-A-Tron but by the time the game was finished, it was so different that Mattel decided to release it under a new name. Mattel was then going to release Adventures of Tron for Intellivision but changed their minds and never released the Intellivision version.
Distribution
Adventures of Tron was sold through INTV after Mattel shut down Mattel Electronics.
Hidden credits
Hold down the Select button when turning the power on the Atari 2600. On the title screen, the words "By Hal Finney G. Hightower" (Programmer) appear under the word "TRON."
Name change
The Telegames re-release's name was changed because the Disney license had expired. The title screen was also removed.
Special Edition
Mattel also sold Adventures of Tron and the Atari 2600 version of Tron: Deadly Disks in one package along with a special blue Tron joystick. If you bought both games separately, you could send in the proofs of purchase and get the joystick free.
Information also contributed by LepricahnsGold
Contribute
Know about this game? Add your expertise to help preserve this entry in video game history!