Socks the Cat: Rocks the Hill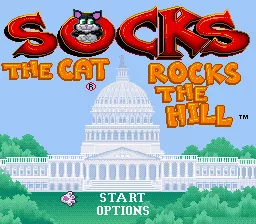 Released

Credits

Publishers

Developers
Genre

Perspective

Visual

Gameplay

Setting

Narrative
Description
Socks the Cat is a new frontier in licensed games: presidential pets. Players take on the role of then-President of the United States Bill Clinton's pet cat Socks on a journey of great political importance. Robbers break into the White House and succeed in stealing a portable nuclear missile... and Socks. Players, as Socks, need to break themselves out while also recovering the nuclear missile to save the world.
Players control Socks from a side-scrolling perspective in a typical 2D platformer. Just like most other games in the genre, players can run and jump their way to victory. Being a cat, Socks can also use his claws - this is his main means of protection, with most enemies able to be taken down by a few strategic claw swipes. Players can also pick up a few other items to help them out, such as blocks of cheese that can be thrown to distract mouse enemies. A few levels feature real-world political themes, like the final level set in the White House's famous rose garden, but most feature generic platforming themes like warehouses or sewers. The political theme also shows up in a few bosses which are caricatures of real-world political figures.
Credits (SNES version)
27 People (24 developers, 3 thanks) · View all
Lead Programmer
Assistant Programmer
Backgrounds
Animators
Character Designer
Additional Art
Map Layout and Design
Music Producer
Music Composer
Sound Effects
Testers
Executive Producer
Producer for Realtime Associates
Producer for Kaneko
Special Thanks to
Developed By
El Jefe
[ full credits ]
Trivia
Game history
Socks the Cat was originally planned for release back in 1994, early in Clinton's presidency, but was cancelled when publisher Kaneko USA went under. It was reportedly in a late stage of development at the time, though not yet finished. At least one late development prototype made its way into the hands of a private collector, who eventually sold it to a collector with an interest in publishing it. The new publisher, Second Dimension, obtained the rights to release the game legally and hired a programmer and an artist to complete the game as much as possible before bringing it to Kickstarter for a crowdfunded release. The finished game was finally released in early 2018 as a limited run of SNES cartridges.
Contribute
Are you familiar with this game? Help document and preserve this entry in video game history!
Contributors to this Entry
Game added by Ms. Tea.
Game added February 7th, 2021. Last modified May 14th, 2023.