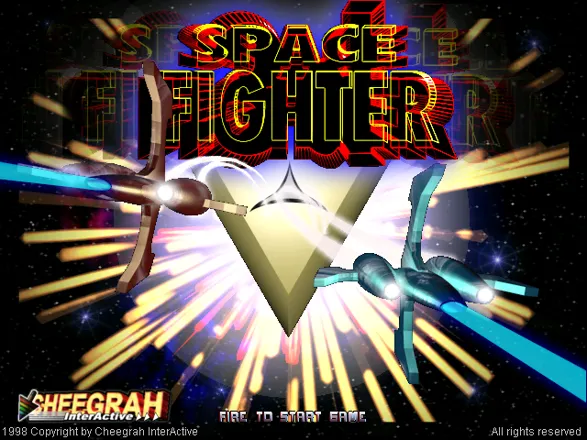 Genre

Perspective

Visual

Gameplay

Setting
Description
3D Space Fighter is a vertical-scrolling shoot 'em up with high-resolution, pre-rendered graphics. According to the plot, at the start of the 21st century, mankind finally made contact with sentient alien life, but the aliens turned out to be hostile. Even though the extraterrestrial fleets had been detected from afar, Earth was not prepared and the first attack crippled the planet's defences. Yet the humans unified their efforts and created a spaceship strong enough to stand against the enemy fleet, code named Sigma Terminus. It is this ship that the player flies in the game, with the mission to remove the threat of alien invaders.
Gameplay consists of flying forward (vertically up) and shooting at advancing waves of enemy ships of different configurations that fly in various patterns. Occasionally, spheres that contain powerups appear on the screen, which after being destroy drop their contents for the player to collect. These provide ammo for secondary weapons, shields and other typical improvements. The player must watch out for other obstacles such as asteroids which may get in the path of the ship. The player's craft can withstand several hits from enemy shots and impacts, but the shields will not regenerate. Each level ends with a boss battle.
3D Space Fighter was marketed as shareware, with the unregistered version being time-limited to five minutes of play (per playing session). Registered users would receive a registration code to convert the shareware version into the full version without limitations.
Contribute
Know about this game? Add your expertise to help preserve this entry in video game history!
Contributors to this Entry
Game added by MrFlibble.
Game added March 27th, 2021. Last modified February 12th, 2023.