Cyberbox II
Moby ID: 159970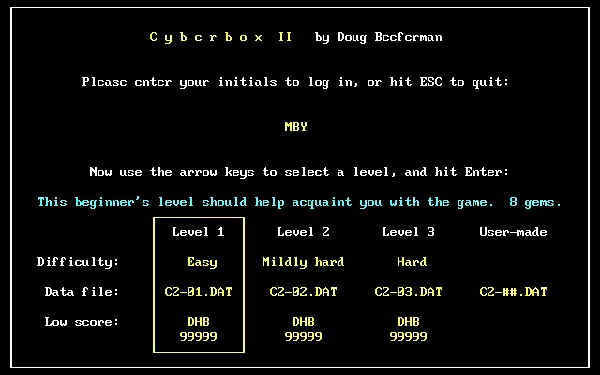 Genre

Perspective

Visual

Pacing

Interface
Business Model

Media Type

Input Devices Supported

Number of Offline Players

[ view all 11 specs ]
Official Site
Description
Cyberbox II is a follow-up to the original CyberBox by the same author. The game is still centred around the premise of pushing blocks similar to Soko-Ban, but levels are no more confined to a single screen as in CyberBox, and the goal is to collect all gems in a level before reaching the exit. As such, each level comprises of several smaller puzzles which the player needs to solve to obtain each gem and unlock he exit. Because any wrong move will likely make the level unpassable, there is now a save game feature so that the player does not have to restart the entire level if stuck.
All elements from the original CyberBox remain: blockers are solid walls which may not be pushed or walked through; sliders are boxes which may move either horizontally, vertically or in either direction, as indicated by arrows and their colour; pushers will move in the direction of their arrow as long as the path is unobstructed; and selectors are blocks which may only be pushed by another block, but not directly by the player. Cyberbox II also introduces new objects like walls that the player may walk through (sometimes only in one direction), or slippery ice floors that send the player sliding until an obstacle is reached.
The game comes with three level sets, arranged by difficulty level, with the easiest one also offering tutorial messages. Additionally, there is support for user-made levels, which can be created with any text editor. Cyberbox II is distributed as shareware: the whole game may be freely copied but the user may register for a small donation, granting the right to tech support, the entire source code and copies of other games by the same author.
Contribute
Are you familiar with this game? Help document and preserve this entry in video game history!
Contributors to this Entry
Game added by MrFlibble.
Game added April 6th, 2021. Last modified February 22nd, 2023.