Description
Defiance puts you in the pilot seat of an experimental LAV-6 SABER, a one-man hovercraft armed with a variety of energy weapons, rockets, and smart-bombs. When a series of tests at a military manufacturing plant on the planet Calchon go horribly wrong, you find yourself under attack by hundreds of malformed, biomechanical monsters. You'll have to fight your way to freedom as you discover what exactly happened to bring these creatures to Calchon's doorstep.
The actual gameplay of Defiance is a hybrid between a first-person shooter and a vehicle simulator. Unique to the game at the time was the ability to "hop" around levels with limited thruster power. You'll have to use your thrusters to solve level puzzles (finding ledges and hopping chasms) and outmaneuver enemies, many of which are armed with their own ballistic and energy weapons.
Defiance presents its story almost entirely in-game, through the use of audio logs, voice overs, and commands from your superior officers. While the story serves mostly as a backdrop for the action, it does so in a way that is not intrusive or overbearing.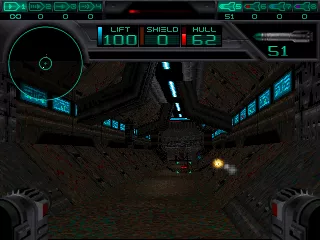 Credits (Windows version)
30 People · View all
Executive Producer
Design, Programming, Project Management
Design and Story
Level Design
AI Programming
Programming
Animation
Art, Animation, Sound and Music
Executive Producer
Producer
Advertising
Manual
Cover Art Concept
Box Cover Execution
Box Design

Moore & Price Design Group

Production Coordinator
Graphics Coordinator
Marketing & Promotion
Voice Over Coordination
[ full credits ]
Trivia
Development history
In early 1996, Logicware was hired by 3DO to develop two computer ports for recent releases on the 3DO system, Blade Force and Killing Time. Early work on porting Blade Force to the PC was spearheaded by Lars Brubaker and James C. Smith, who coded a brand new engine. However, the team felt that the original levels and assets from Blade Force were not up to par with what their in-house engine was capable of, and set about creating new levels and assets for the port.
For reasons not known, 3DO eventually dropped plans for the PC port of Blade Force, while still going ahead with the Killing Time port. The team for the Blade Force PC port decided to take what they had and rework it into their own unique title, Biotype / Bio Type. After shopping the game around to different publishers, they eventually struck a deal with Avalon Hill, who requested a title change to Defiance.
All modeling work for the game, including level geometry, objects and enemies, was done in LightWave and all animation work done in 3D Studio MAX. Direct3D support was added near the end of development.
[editor's note: still not solid on how the original title was written. In the game files there's remnants of the original title that I hadn't noticed before until recently, after learning it wasn't originally called Defiance, and in those files they capitalize the word 'Type']
Contribute
Know about this game? Add your expertise to help preserve this entry in video game history!
Contributors to this Entry
Game added by thalcos.
Additional contributors: Albert Hamik.
Last modified February 22nd, 2023.