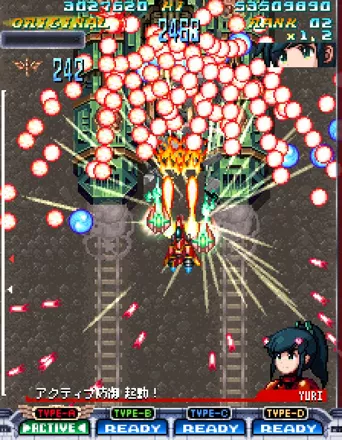 Released

Publishers

Developers
Genre

Perspective

Visual

Art

Gameplay

Interface

Vehicular

Setting
Description
Senxin Aleste is the first-ever arcade entry in the long-running Aleste series. Styled after classic 90s arcade shooters, with gameplay borrowing heavily from the Dodonpachi series, Senxin is an intense shooter featuring dense hails of enemy fire. Like in Dodonpachi, players have both an intense regular shot and a rapid machine gun shot; they also have access to a powerful bomb that can clear the screen and a "blow" ability which repels nearby bullets.
Senxin stars a new squadron of spaceship fighters, but with a fresh twist: players are actually piloting the entire squadron at once, with the ability to swap ships during the course of gameplay. Certain ships will drop a special powerup that allows players to swap ships; it slowly rotates between the four characters, allowing players to carefully select which ship to swap to. Each character features their own energy gauge and their own special ship behaviour, so swapping characters at the right time can be the key to victory. While players pilot the squadron together, the squad leader they select gets an extra unique bonus which applies to all ships. The characters are:* Yuri Kinuugi - pilots the FX-02 Muramasa, a high-mobility ship that specializes in concentrated shots. As the leader, she gives the squadron a faster-building energy gauge when collecting items.
Ratna Francis - pilots the YF-X12 Bothrops which is capable of firing in any direction. As the leader, she ensures that item-carrying ships appear more frequently.

Tanya Yaezakura - pilots the SUS-07 Metel, which features both a wide shot that covers a large section of the screen and a point-blank shot that attacks the area immediately in front of the ship. As the leader, she increases the attack power of the full squadron.

Huang Kexin - pilots the SJ-03D Tiang-Qiong which can destroy enemy bullets and is tailed by a small support ship for extra firepower. As the leader, she improves the resurrection speed of incapacitated teammates.
Spellings
せんじんアレスタ - Japanese spelling (kana)
戦刃Aleste - Japanese spelling
Credits (Arcade version)
38 People (27 developers, 11 thanks) · View all
Director
Game Design
Programmer
Character Design
World Setting
Chief Designer
Designer
Music Composer
Sound Effect
Game Balancing
Advisor
Voice Acting
Voice Casting
Web Designer
Sales / Promotion
[ full credits ]
Contribute
Know about this game? Add your expertise to help preserve this entry in video game history!
Contributors to this Entry
Game added by Ms. Tea.
Game added August 2nd, 2021. Last modified March 9th, 2023.