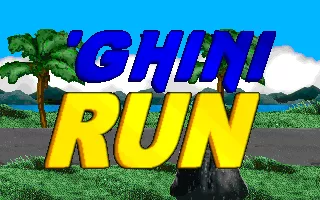 Genre

Perspective

Gameplay

Interface

Vehicular

Setting
Description
'Ghini Run is a sprite-based behind-view arcade street racing game that pays homage to SEGA's OutRun. The player takes part in various driving challenges, steering the car with a simple combination of accelerate, brake and left/right turn keys.
There are four game modes:
Arcade - single race against AI players on any available track
Shotgun Run - racing tournament spanning over four to six tracks
Time Attack - racing against time on any track
Pursuit - play as the police and hunt down illegal racers
Each mode can be played on one of three difficulty settings, which are determined by the number of AI opponents and the amount of time given to reach track checkpoints.
The game includes nine playable cars (including the police car exclusive to the Pursuit mode) and six tracks of increasing difficulty. Some tracks and car models are not available at the start and must be unlocked by winning races in various game modes.
'Ghini Run was coded in QuickBasic and released as freeware.
Credits (DOS version)
16 People (8 developers, 8 thanks)
Game Code
Graphics
Dash Library
GS Library
DirectQB EMS and Keyboard
Cosmo-X Timers
Direct Sound for QBPP
Far QB
Testing
Thanks

Wildcard
Vance
QBShire
Bobby
Relsoft
Mr. Moose
and everyone else who supported me
and you for playing!
Contribute
Know about this game? Add your expertise to help preserve this entry in video game history!
Contributors to this Entry
Game added by MrFlibble.
Game added December 26th, 2021. Last modified March 9th, 2023.