Azrael's Tear
aka: Azrael's Tear: A la Recherche du Graal, Azrael's Tear: Auf der Suche nach dem Heiligen Gral, Azrael's Tear: Search for the Holy Grail
In Azrael's Tear you play a "raptor", a futuristic thief that raids ancient archaeological sites that have as yet been untouched by man for hundreds of years and are full of treasures.
Recently, due to geological disturbances, the supposed home of the Holy Grail is partially unearthed in northern Scotland. You go in to raid it of its treasures and, provided it exists, of the Holy Grail. When you enter, the entrance caves in behind you and you are stuck inside. Ah well, nothing to do but continue on to find what you came for...
The game utilizes a true 3D engine to display your surroundings, as in Quake. It's heavy on puzzles and light on combat. As you move further on into the ruins you'll encounter ghosts of the inhabitants and hints as to what happened to cause the ruins that surround you now.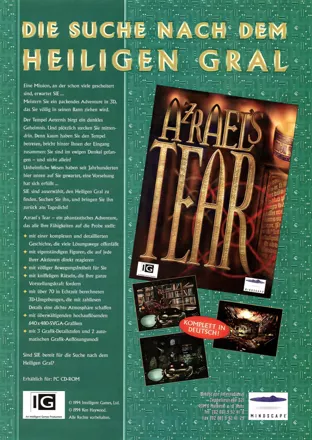 Credits (DOS version)
55 People (50 developers, 5 thanks) · View all
Producer Mindscape International
Documentation
Playtesting/Quality Assurance
Marketing
Special Thanks To
Project Leader
Original Concept
[ full credits ]
Contribute
Know about this game? Add your expertise to help preserve this entry in video game history!