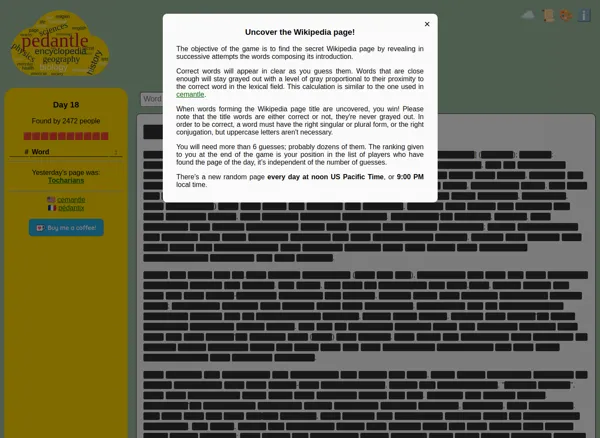 Genre

Perspective

Interface
Description
Pedantle is a daily puzzle game, similar to Wordle, but based on semantic similarity rather than guessing the word letter-by-letter. It employs the Word2Vec machine learning model to determine relationships between words. It is an English variation of the French-language game pédantix, itself inspired by the earlier game Redactle.
The player's goal is to guess the name of an English Wikipedia entry, which is different every day. The few starting paragraphs of the Wikipedia entry are shown to the player, initially with all words hidden. If the player types in a word that is in the entry, all occurrences of it are revealed. Furthermore, words which are semantically close to the inputted word are marked as such. For example, if the player types in "seat", then all occurrences of that word in the entry are revealed, while occurrences of words like "chair" and "ticket" are marked as semantically similar to "seat". The game ends once the player reveals all the words in the entry title.
Credits (Browser version)
4 People
Related Sites +
r/cemantix - Reddit
A French-language Reddit community dedicated to the games <i>pédantix</i>, <i>cémantix</i>, <i>Pedantle</i> and <i>Cemantle</i>.
Contribute
Are you familiar with this game? Help document and preserve this entry in video game history!
Contributors to this Entry
Game added by Havoc Crow.
Game added August 8th, 2022. Last modified February 22nd, 2023.