Sury Ani 7 has been a source of mined resources for many a year, but now that it is contaminated, the only way to harvest its bounty is to do so remotely. Worse still, the security system of defence droids is active, and primed to damage anything which attempts to penetrate the surface.
As such, you are in control of a Dedicated Disposal Droid in, which must eventually shut down the security system and clear the area of radioactive material. This is done by throwing it down the disposal chute on each of the 8 levels, but you only have limited time before they explode. Fuel is limited and must be found within the complex, with the retro-thrust move using it up particularly quickly. To reach the next level you must find the appropriate pass.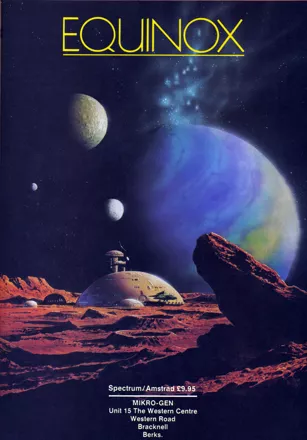 Credits (Commodore 64 version)
| | |
| --- | --- |
| Commodore 64 version by | |
| Cover Artwork | |
Trivia
References
Crash magazine ran a series of articles in around 87/88 about Raffaele Cecco, who was then writing Cybernoid II: The Revenge or Stormlord.. He wrote a "diary" of the process involved in creating a game and accompanying one of these diaries was a photo of his girlfriend named Suryani. As he had also been one of the team involved in writing Equinox some time earlier it can be assumed that the name of the planet in this game was a compliment to her.
Contribute
Know about this game? Add your expertise to help preserve this entry in video game history!