Shoot 'em up Construction Kit
aka: SEUCK
Shoot 'em Up Construction Kit is more of a utility than a game. It allows the user to create a huge variety of top down shooters with a simple set of utilities allowing the player to draw, animate and move all of the games sprites, create sound effects and backgrounds for many levels, and set up games rules.
The package comes complete with 4 games already made on it, to demonstrate the techniques involved. These include: "Slap and Tickle" (set in space), "Outlaw" (a wild west game in the style of Commando) "Transputer Man" (with a strong sci-fi setting, inspired by Robotron 2084) and "Celebrity Squares".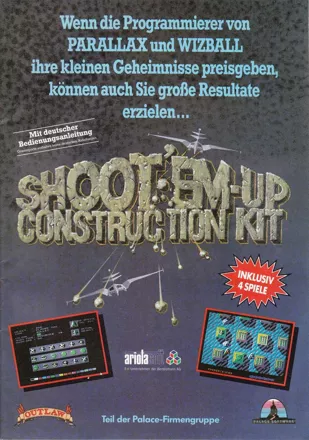 Credits (Amiga version)
5 People
| | |
| --- | --- |
| Designed by | |
| Programmed by | |
| Design | |
| Graphics | |
| Sound | |
| Additional Graphics | |
Critics
Average score: 79% (based on 15 ratings)
Players
Average score: 3.9 out of 5 (based on 9 ratings with 1 reviews)
A piece of software that demonstrates the time and effort needed to produce a game

The Good
Shoot-'Em-Up Construction Kit (SEUCK) is not a game but, as the title suggests, software that lets you construct your own game. Although the main focus is on shoot 'em ups, you can make any old game, including an Ikari Warriors clone. I looked at the sample games on the second disk, and found out that they were similar in style to the games that I played on the Assassins PD Collection.
SEUCK was the work of Sensible Software, the guys who brought us Cannon Fodder. Its root can be traced back to a graphics utility for the Commodore 64 called Worldmaker, but the author was pressured by Sensible to expand upon it so that it would let the end-user make games, not just play them.
The program delivers a user-friendly interface that allows the user to create sprites, objects, graphics, sounds, and more, and lets them alter certain characters such as attack waves. You can make your own assets using programs like DeluxePaint or a sound-creation program, or just use the ones the developers supplied. SEUCK demonstrates the time and effort developers go through in creating just a basic shoot 'em up. Every sprite and their animation has to be planned on paper first before creating them on the computer. I made my own sprite assets, each with its own animations but used the sound effects the developers supplied. That is as far as I got.
There are sample games on the second disk and they are all fun to play. They all have well-designed title screens. There are only three games on the disk, and my favorite one was PsychoBlast, where you have to shoot a variety of enemies in a level before time runs out. The other ones work as they should.
The sound effects have the same quality from other shoot-'em-'ups of its heyday. Over twenty sounds were composed by Richard Joseph, who also did the effects for Barbarian II. I found the effects for PsychoBlast amusing.

The Bad
Nothing that I know of.

The Bottom Line
As I said earlier, SEUCK demonstrates the time and effort needed to develop a game. Don't expect a game to be completed in five minutes, as some planning is required if you want it to work properly; and since SEUCK came out in the late Eighties, don't expect your game to be state-of-the-art. Those who just don't like to waste time creating their game and focus their time and energy on something else should steer clear.
Amiga · by Katakis | カタキス (43051) · 2014
Trivia
Battle Ball
After a wave of people attempting to sell SEUCK-coded games to commercial companies, programmer Stoo Cambridge attempted to do so himself. He coded Battle Ball using a slightly modified version of SEUCK to create something which had only superficial differences from the standard. It was sold to Power House but they folded before its release. Cambridge was paid however. The game was lost until being recovered in 2014; it is now available via the Games That Weren't website.
Outifre
The German magazine ASM (Akueller Software Markt had a section in which they reviewed games made and sent in by readers without (respectively in search for) a publisher. In the first installment, they reviewed the game Outfire supposedly made by "Rainbowsoftwareclub" along with a reference address. It scored (average) 5 out of 12 points. As it turned out, it was just a renamed Outlaw, one of the demonstration games shipped with SEUCK... The review can be seen here.
Rip-off
In 1994, an enterprising Polish programmer by the name of Zdzisław Bułka released a Commodore 64 program named Projektuj Grę! ("Design a Game!"), publishing it in Poland through the company Biuro Informatyczno-Wydawnicze. In fact, Projektuj Grę! was the Shoot 'em up Construction Kit, except with the code edited to translate all text to Polish, and with the authorship information changed to credit Bułka. As the original program was rather obscure in Poland, Bułka could hope that few Commodore users would notice the rip-off. "Bułka's" program received a praising review in one of Poland's major Commodore-related magazines, Commodore & Amiga (issue 2/94, pp. 31-32). It was not the first, nor the last C64 program he ripped off and sold as his. Bułka's practices eventually came to the magazine's knowledge and received a scathing criticism in its pages (issue 10/94, pp. 28-29).
Awards
Commodore Force

December 1993 (Issue 13) – #72 "Readers' Top 100"* Zzap!
Newsfield Reader's Awards 1987 - State Of The Art Award (readers choice)
Contribute
Know about this game? Add your expertise to help preserve this entry in video game history!