A centaur found a baby abandoned on a mountainside, took him, and raise him as his own. When the baby becomes a young man, the centaur reveals to him that there was a ring and a few gems in his baby blanket. This can only mean that he is of no ordinary origin, and is probably connected to the gods. The young man leaves the centaur's house, determined to find his real parents, and learn about his heroic destiny.
Wrath of the Gods is a puzzle-solving adventure game revolving around popular Greek myths. Many of the puzzles can be solved by applying knowledge of Greek mythology. To further emphasize the educational element, the game includes an database of Greek mythology, which can be used as a hint system to solving the puzzles, or purely for learning purposes. The game utilizes digitized photographs for characters and backgrounds, with third-person navigation.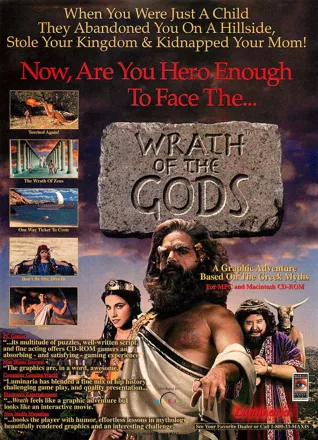 Credits (Windows 3.x version)
90 People (83 developers, 7 thanks) · View all
Created & Produced by
Designed by
Written by
Directed by
Senior Artist
Lead Programmer
Additional Programming
Art Production and Animation
Creature Models
Background Art
[ full credits ]
Trivia
The manual recommends reading the following books:
Apollodorus - The Library
T. H. Carpenter - Art and Myth in Ancient Greece
Robert Graves - The Greek Myths
Edith Hamilton - Mythology
Homer - The Iliad (translated by Robert Fagles)
Homer - The Odyssey (translated by Robert Fitzgerald)
G. S. Kirk - The Nature of Greek Myths
Martin P. Nilsson - The Mycenaean Origin of Greek Mythology
Edward Tripp - The Meridian Handbook of Classical Mythology
A. G. Ward - The Quest for Theseus
Contribute
Know about this game? Add your expertise to help preserve this entry in video game history!