Titus the Fox: To Marrakech and Back
aka: Titus the Fox
In the international edition of Lagaf: Les Aventures de Moktar - Vol 1: La Zoubida, you play Titus' fox mascot. His beloved Suzy has been kidnapped on the other side of the Sahara desert, and to get her back he has to advance through 15 levels (with codes for each one) comprising of nearly 1000 screens of platform gameplay, scrolling in 8 directions.
There are secret rooms to find, and bosses at the end of each level. The player can also interact with many parts of the background. Using available objects such as springs and crates correctly is often vital to progress. Alternate modes of transport such as Magic Carpets and Skateboards also make an appearance.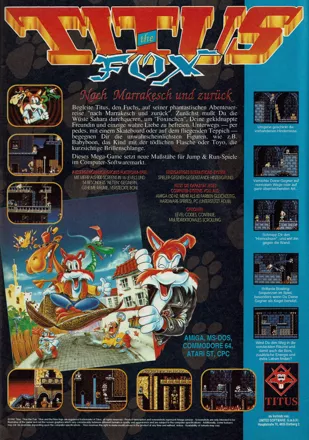 Credits (DOS version)
12 People (8 developers, 4 thanks)
IBM Engineer
Musics
The Sleeper
Background
Sprites
Game Designer
Amiga Version
Funny Friend
Thanks To

Cristelle
Ana Luisa
Corinne
Manou
Trivia
Those wacky developers...running the game today results in this message:
"Yeaaa... You are still playing Moktar in [current year]!!
Programmed in 1991 on at .286 12MHZ. ...Enjoy Moktar Adventure!!"
Contribute
Know about this game? Add your expertise to help preserve this entry in video game history!