Leader Board
Moby ID: 22482
Access' long line of golf simulations started with Leader Board. Hold down the fire button to set the pace, then press it for hook and slice if needed. Greens are sloped, so be sure to factor this in. Four 18-hole courses are provided, and a 4-round match can consist of any combination of these, with up to 4 players joining in.
There are three skill levels - novice players just have to hit the ball at the right speed in the right direction with the right club. Amateurs must be precise with the snap, to set the desired level of hook or slice - conventional wisdom in golf is to work on eliminating it first, then adding it back in - while the professional level also adds wind fluctuations.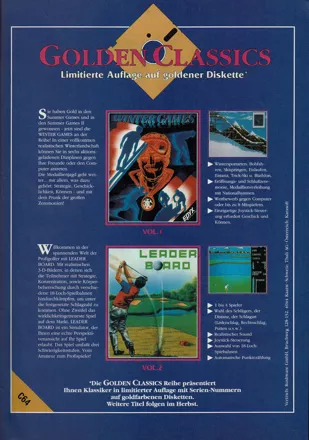 Credits (Commodore 64 version)
Critics
Average score: 79% (based on 11 ratings)
Players
Average score: 4.0 out of 5 (based on 16 ratings with 0 reviews)
Be the first to review this game!
Contribute
Are you familiar with this game? Help document and preserve this entry in video game history!