A Fork in the Tale
Moby ID: 2259
A Fork in the Tale is a FMV game starring Rob Schneider who voices the unseen player character. At the start of the story he saves a young woman's life and is transported to the dimension Eseveron. There he spends his time trying to figure out what is going on and then thwarting the plans of an evil villain.
The game is an interactive movie in the tradition of Dragon's Lair: The player watches a movie with little possibilities for interaction. During the movie sequences buttons pop up which stand for actions he can undertake, e.g. starting a conversation or using an item. He has a limited time to click on one of these buttons - if he chooses the correct one the movie progresses, if he clicks on the wrong one or none at all he dies. Later in the game there is another form of interaction: the player has to recreate gestures with his mouse to perform magic spells.
There are three difficulty levels which influence the difficulty of the choices and the tolerance for mistakes. It is marketed as a comedy adventure which means there are a lot of humorous remarks by the protagonist, especially when choosing the wrong path.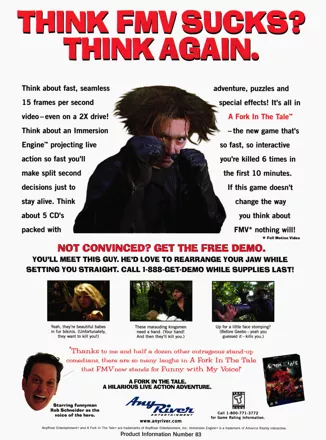 Credits (Windows version)
114 People (107 developers, 7 thanks) · View all
Designed & Developed by

Advance Reality Interactive

Written by
Produced by
Directed by
Immersion Engine Software Engineering
Original Music Score
Sound Effects
Special Effects
3D Design and Animation
Animation
Video Editing
Comedy Writing
Artwork
User Interface Consultant
Cursors and Hot Spots
[ full credits ]
Critics
Average score: 42% (based on 9 ratings)
Players
Average score: 2.5 out of 5 (based on 6 ratings with 0 reviews)
Be the first to review this game!
Trivia
Reception
This was Any River's first and last game. Mismanagement of funds had put too much weight on A Fork In The Tale becoming a blockbuster to keep them afloat, and it didn't, and they sank.
Awards
Computer Gaming World

March 1998 (Issue #164) – Adventure/RPG Coaster of the Year
Contribute
Are you familiar with this game? Help document and preserve this entry in video game history!