Description
F1 Racing Championship is the third Ubi Soft F1 racing simulation game, published with the FIA license by Video System. It features official tracks, drivers and cars of the 1999 F1 season.
The game is based on a new engine bringing a real technological step compared to the two first titles (F1 Racing Simulation and Monaco Grand Prix Racing Simulation 2).
Available game modes are Single Race, Grand Prix, Championship, Private Trials and Time Attack. The tracks were modelled in 3D from GPS data sampled on the real roads. There are realistic physics, a telemetry system to analyse behaviour of your car and to tune its settings, complex driving AI, recordable replays, strategy management with animated pit sequences, weather simulation, and LAN support for multiplayer games.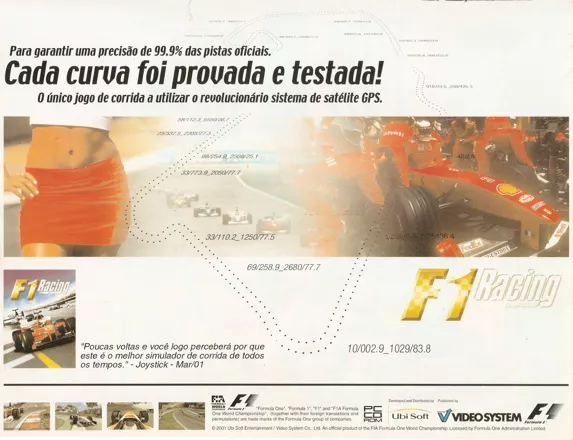 Credits (PlayStation version)
130 People (125 developers, 5 thanks) · View all
Project Manager
Producer
Assistant Project Manager
General Designer
Project Leading Designer
Game Designer
Behavior Designer
Quality Manager
Graphic Studio Manager
Graphic Project Manager
2D Artists
3D Artists
[ full credits ]
Critics
Average score: 82% (based on 30 ratings)
Players
Average score: 3.9 out of 5 (based on 15 ratings with 1 reviews)
The Good
Of all the F1 games launched covering any season between 1999 and 2002, this is, I would say, arguably the most realistic of all the single-season games released during that period. Even the arcade mode is realistic in its own way. Don't expect cars to brake quicker than in normal modes because you'll either end crashing into the wall or rear-ending another car. Also don't try to brake check (or brake test) the cars who are pursuing you, you will trigger a massive pile-up.

The Bad
Graphics.
They look quite decent, however, they are less detailed than in other F1 games from the time, for example comparing them with the first EA sports games.
It isn't nice to have to pass a determinate number of events in other modes for being able to participate in the whole 1999 world championship.

The Bottom Line
A good initiation for those who want to try their first PS2 Formula One game.
PlayStation 2 · by Carles Carlos (23) · 2022
Contribute
Are you familiar with this game? Help document and preserve this entry in video game history!
Contributors to this Entry
Game added by Jérome Hubert.
Nintendo 64, PlayStation, Dreamcast, PlayStation 2 added by vedder.
Game added October 10th, 2006. Last modified June 3rd, 2023.