Ultimate Fighting Championship
aka: UFC
Moby ID: 25410
Description
Ultimate Fighting Championship is based on the no-holds-barred martial art tournament of the same name. What makes the game (and the real-life counterpart) distinct from wrestling, boxing, and other fights is the variety of fighting styles in use; it is perfectly possible to end up with a judo master facing a kickboxer.
The actual gameplay is simple enough. You have various basic moves, combos, holds, and so on. The complications come in the form of the huge list of moves, featuring many different styles. Hit your opponent until he gets knocked out, or force him to tap out early.
There are multiple game modes included. Among them are a survival mode, that has you face a string of enemies with minimal recovery, and career mode, which allows you to customize and improve your fighting style as you win fights.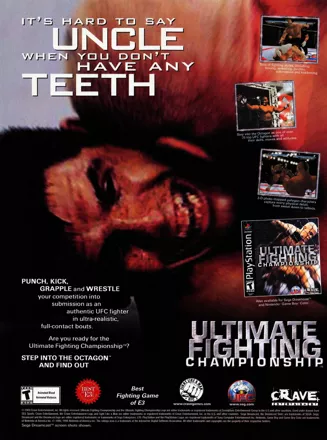 Critics
Average score: 74% (based on 21 ratings)
Players
Average score: 2.5 out of 5 (based on 13 ratings with 1 reviews)
Looks great (most of the time).

The Good
Its easy to jump right into an exhibition. The move combinations are pretty easy to figure out making for a seemingly easy pick-up-and-play experience. The graphics are much improved over the Playstation version and fighters look more like themselves than ever before. Knockouts are cringe worthy in a good way.

The Bad
A lot of times it feels based purely on luck. Using the same strategy you could win and lose 10 matches back to back. The transition between holds feel and look canned as can be. The matches seem to be oddly quiet as well. The blood effects are a little on the Nintendo 64 side which doesn't quite fit the UFC style. Speaking of N64, the crowd textures are reminiscent of No Mercy. Too bad, there were a lot better aspects they could've borrowed. The cheap AI tactic of repeatedly striking your neck has to be the worst feature.

The Bottom Line
It could've been better for both fans and casual gamers in many ways. It's not a bad first outing on Dreamcast, but without a follow up the only option is disappointment in certain areas. Create a character to get the full intended experience.
Dreamcast · by Jerrys Kids (125) · 2008
Contribute
Are you familiar with this game? Help document and preserve this entry in video game history!
Contributors to this Entry
Game added by qwertyuiop.
Additional contributors: coenak.
Game added December 21st, 2006. Last modified July 25th, 2023.