Description
In Hatris, the falling blocks of Tetris are replaced by falling hats which are top hats, cowboy hats, baseball caps, derbys, party hats and crowns. The setting is a hat factory, where hats are dropped down from a conveyor belt two at a time and must be stacked on one of six mannequin heads. Once five hats of the same kind have been stacked on top of each other, they fall down onto another conveyor belt below and are shipped out of the factory, rewarding the player with a cash bonus (the game keeps track of score as money, not simply points). Once enough hats are shipped out of the shop, the game goes up a level to the next shop. The higher shop number the player gets to, the more types of hats start appearing to make it more difficult for the player to accomplish their task. The game ends when one of the stacks of hats reaches the top of the screen.
The NES version of the game also features an aid system. Players can receive aid from the avatars of either Alexey Pajhitnov or Vladimir Pokhilko. The aid is earned by completing 5 sets of a hat type (each avatar has 3 hat types dedicated to them) and multiple aid can be stored up til the player chooses to use it. Vladimir can switch hat columns while Alexey can remove hats from the bottoms of the hat columns. At the end of a level, any stored aid can be kept or sold for money.
The Famicom version of the game contains some differences from the NES version of the game. It doesn't have a point bonus for clearing a set of hats at the same time and there is no aid system. At the end of a level. there is a sale screen, which lets the player choose which hat type they want to sell, which will remove it from the playfield. While the sale screen is seen in other versions of the game, there is no extra points received in the Famicom version.
Spellings
ハットリス - Japanese spelling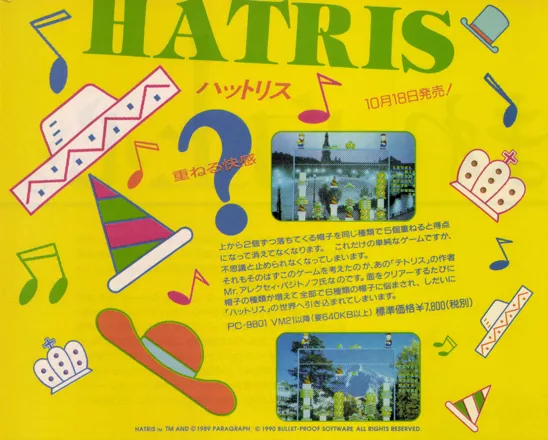 Credits (Arcade version)
| | |
| --- | --- |
| Original Concept, Design and Program by | |
Contribute
Know about this game? Add your expertise to help preserve this entry in video game history!
Contributors to this Entry
Game added by Alaka.
TurboGrafx-16 added by Patrick Bregger. Arcade added by Jo ST. PC-98 added by Kabushi.
Additional contributors: Rik Hideto.
Game added December 31st, 2007. Last modified April 14th, 2023.