Trauma Center: New Blood
aka: Caduceus: New Blood
New Blood is the second Trauma Center game for the Wii, but is is now a completely original title and not a port of an earlier release. The game takes place ten years after the events of Trauma Center: Second Opinion, featuring the two surgeons Markus Vaughn and Valerie Blaylock. The storyline centers around a parasite called Sigma. The perform surgery on Professor Wilkens, an old acquaintance who is infected, but after the operation he is kidnapped and all information about the disease is stolen.
Players can call in a colleague to assist with the onslaught of challenging surgeries to perform (full co-op mode). The Wiimote is used to make incisions, apply antibiotic gel, sew sutures and unleash the mystical powers of the "healing touch" to save the lives entrusted to the player's care. In the Challenge missions players need to treat a set amount of patients in a limited time. The X-missions, available after beating the game once, also make a return.
In single player or co-op, players can choose to control either Markus or Valerie. Some single-player missions force the player to use one doctor or the other. Aside from some dialogue changes, the only real difference between the two doctors are their slightly different versions of the Healing Touch. Markus' slows down time, similar to the previous Trauma games, allowing the player to treat an overwhelming amount of injuries in before the patient's vitals can drop. Valerie's freezes the patient's vitals entirely for a short period, allowing the player to focus entirely on the operation. However, vitals can not be improved while Valerie's Touch is active. Stats (like performance rankings) are also tracked separately for each of the two doctors, encouraging at least one repeat play of each mission.
Spellings
カドゥケウス NEW BLOOD - Japanese spelling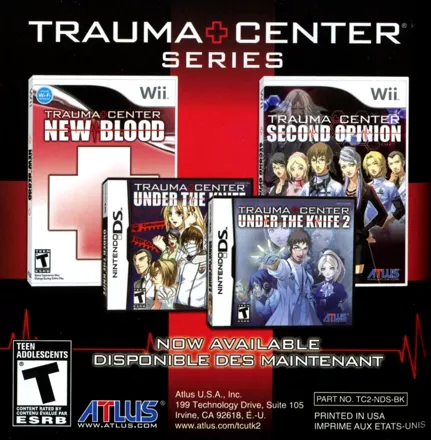 Credits (Wii version)
78 People · View all
Director
Scenario Writer
Planners
Lead Programmer
Programmers
Support Programmers
Programming Manager
Art Director
Designers
Effect Design
Support Design
Design Manager
Sound Director
Sound Creator
[ full credits ]
Contribute
Know about this game? Add your expertise to help preserve this entry in video game history!