Shufflepuck Cafe
Moby ID: 3507
One puck, and only two competitors. One is the computer, and the other is, of course, you. You get a chance to match your skills at this Air Hockey style game, over 'Cantina Band' inspired music. Deflect the puck around the walled area using your bat, trying to knock it into your opponent's goal.
There are several competitors, from which some of them definitely cheat, so be prepared to be laughed at. However, you can cheat as well, as you can resize your stick to fill the whole table width, or add one in the middle, and see who breaks glass first. There are single plays or the tournament where you play opponents in order of difficulty. The winner is the one who reaches 15 glassbreaks first.
Spellings
シャッフルパック カフェ - Japanese spelling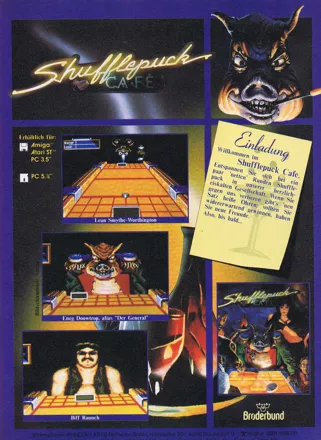 Credits (Macintosh version)
| | |
| --- | --- |
| Game by | |
| Additional design contributions by | |
| Graphics by | |
| Sound by | |
Critics
Average score: 72% (based on 15 ratings)
Players
Average score: 3.6 out of 5 (based on 36 ratings with 1 reviews)
Best game containing aliens, witches, hogs and of course pucks

The Good
Its a very original game of that times. It upgraded the concept of the original bounce the ball off the pad to a much more interesting blood pumping adrenaline packed game. Every opponent had a very different game-style and the music plus the sound-effects are absolutely fabulous for that time of age.

The Bad
Is this a trick question?

The Bottom Line
A masterpiece! Component off fun and thought, fast action and quick thinking, a game of reflex and a game of mind. Don't miss it... You'll regret it if you do!
DOS · by Dorian Boršo (2) · 2003
Trivia
Apple IIGS version
Around 1990, this game was ported to Apple IIGS computer, but it remained 'unreleased' reportedly due to a beta copy being leaked. It would have been the only color version of the game for any Apple computer, as the original Macintosh release was only in black and white graphics.
Poster
Rather than a manual, the original boxed game came with a "doublesided poster" featuring front and back box cover art on one side; and game overview, character profiles and aspects of gameplay on the other. "Startup Special" sheet contained computer-related loading instructions.
Contribute
Are you familiar with this game? Help document and preserve this entry in video game history!