Rollcage Stage II
aka: Death Track Racing
This sequel to Rollcage can be considered as Wipeout on wheels. The game allows you to power your vehicle down tunnels at blistering speeds, riding upside down on the roof if need be, and blast your fellow competitors to smithereens!
There are new and improved weapons - including the ability to double up your arsenal; picking up the same weapon twice improves its power/abilities. There are 12 racing modes - not all of which are available at the start - and many hidden bonuses, all of which can be unlocked throughout the game. The game has new physics and vehicle handling, and uses shorter tracks than its predecessor.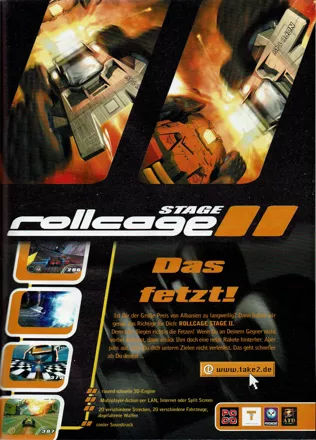 Credits (Windows version)
68 People (64 developers, 4 thanks) · View all
Lead Programmer
Rendering Engine
A.I. Systems
Physics System
Map Editing System
Everything else
Lead Artist
Artists
Art Design
Lead Track Designer
Track Designers
Produced & Designed by
Special Thanks to
Product Manager
Internal QA Supervisor
[ full credits ]
Trivia
Music
Windows version of the game features music by Gary McKill while PlayStation version has completely different soundtrack composed by E-Z Rollers, Technical Itch, Omni Trio, Aquasky, Flytronix and Dom & Roland. Although, both versions of the game feature "E-Z Rollers - Breakbeat Generation" track in the intro movie.
Contribute
Know about this game? Add your expertise to help preserve this entry in video game history!