Description
Cities XL a city builder very similar to SimCity but with many more features and things the player has to pay attention to. It largely builds on the concept of the earlier City Life series by the same development studio.
Before building a city from scratch the player has to create an avatar that will appear both online on the website in the profile as well as in the game itself. But as opposed to Tropico 3 for instance, the avatar is just for chatting through text and emotes with other players visiting the city. His presence in the city will not influence anything. Once an avatar has been created the player has to decide where he wants to begin building his city. While a single-player mode is available and offers more than a dozen different maps to play around on, the core of the game is the subscription-based planet mode. There the players have whole planets at their disposal with hundreds of slots to build a city on with varying difficulty levels. Building a city in the planet mode and connecting it to the outside world also gives the player access to an extensive marketplace, allowing for trade with other players and the omnipresent and slightly evil OmniCorp. To do so, tokens are created when the player's city has a surplus of certain resources and once a contract has been signed by both parties, the trade will last for five days or until there is no more surplus available.
In order to get a surplus, the player of course needs to build up his city first. He has several means to do so. He can either build each house and each road himself or just build a long main street and build designated blocks (even with diagonal and curved streets) connected to it. The player has to build homes, workplaces, shopping options and recreation facilities for four types of inhabitants and five types of industries ranging from agriculture which needs unqualified workers to high-tech industry that relies both on qualified workers and executives to function. In addition infrastructure like water, electricity, a railroad network, expressways and such need to be build up by the player, as well as public buildings like schools or police headquarters are needed to won a flourishing city. All this is accommodated by a vast assortment of menus that gives the player easy access to every information he possibly needs, ranging from one click that shows what one type of industry or workers think and need to more in-depth and number-heavy statistics.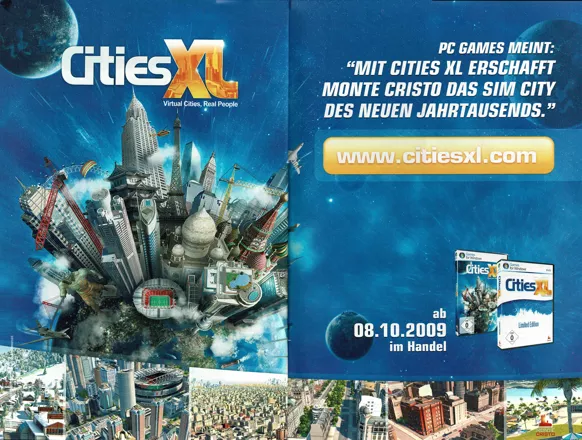 Credits (Windows version)
117 People (114 developers, 3 thanks) · View all
Trivia
Online shutdown
On February 1, 2010 the title's development and publishing studio Monte Cristo Multimedia announced to shut down the online elements of the game (Planet Offer), three months after the original release, citing that the amount of subscriptions was "lower than what we expected". The server was officially closed on March 8, 2010.
Contribute
Know about this game? Add your expertise to help preserve this entry in video game history!