See Also
Blasto (1978 on Arcade, 1981 on TI-99/4A)
The evil alien ruler Bosc has conquered the planet Uranus with the ultimate goal of destroying the Earth. His army is kidnapping and enslaving the Space Babes to ensure future world dominance. Captain Blasto, the not particularly bright but very muscular superhero, must travel to Uranus and free the Space Babes, while defeating Bosc's minions.
Blasto is a third-person shooter with platforming elements. The protagonist can use various firearms to dispose of the alien enemies. Many fights are scripted, as aliens teleport around the hero when certain events are triggered. Different weapons must be used in different situations to gain the upper hand.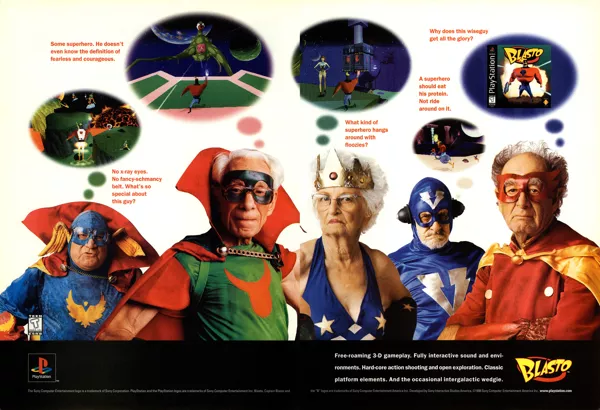 Credits (PlayStation version)
106 People (69 developers, 37 thanks) · View all
Executive Producer
Producer(s)
Assistant Producer
Game Concept
Game Design
Additional Design
Lead Artist/Blasto Character Design
Lead Engineer/Programmer
Animators
Programmers
Artist
Modeling/Texture Mapping
[ full credits ]
Critics
Average score: 65% (based on 18 ratings)
Players
Average score: 3.3 out of 5 (based on 10 ratings with 0 reviews)
Be the first to review this game!
Contribute
Are you familiar with this game? Help document and preserve this entry in video game history!