A young man named Zyll, who lived in the Land of Magic and Enchantment, tried to become a black mage, with the intent of conquering and ruling the entire realm. However, he was banished before he could realize his plans. Determined to have his revenge, Zyll took possession of the Black Orb, an ancient artifact of immense power...
The gameplay of Zyll follows a unique concept - it is a real-time, 1 or 2-player (cooperative or competitive) text adventure, with random treasure placement and character classes. Find the Black Orb and return to save your home from becoming a barren wasteland.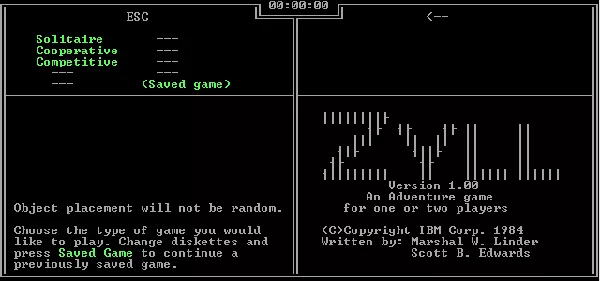 Credits (PC Booter version)
Trivia
If you take the boat from the catacombs up to the flowing river and go north, the game freaks out and quits. (Mike Uhrich)
<hr />
Cracking notes: "I liked the encryption, with the 16-bit key that's modified using the previous word decrypted... Makes it impossible to modify anything without re-crypting the whole damn thing. I also liked the detail that they wrote the (c) string backwards... :) If more people had done this, we would have much less 'The Hermit presents...'". (Demonlord)
Contribute
Know about this game? Add your expertise to help preserve this entry in video game history!
Contributors to this Entry
Game added by Trixter.
Last modified February 22nd, 2023.