Global Agenda is a multiplayer action game set after World War III. But instead of the usual post-apocalyptic scenario the players fight with high-tech agents and belong to either the Commonwealth, the oppressing world government, or the rebels, a coalition of independent factions. While a third person shooter game at heart Global Agenda features various RPG elements known from MMOs.
Except for the hub city where players can accept missions most areas are instances where the PvP (player versus player) and PvE (player versus AI enemies) takes place. It is most important to have a balanced group of players because every of the four classes has its own advantages and disadvantages. For successful matches the player receives experience points and money: the former is used to improve the player character's abilities, e.g. new weapons or technical devices, and the latter to buy new equipment. Weapons are pre-determined by class and abilities; new helmets and suits only have optical consequences.
Combat is action based with no auto-attack and a cover system which means the player's skill decides the fight. The agency vs. agency mode, which initially was only available for members paying a monthly fee, offers a persistent world map where factions fight for control of zones (which are divided into territories). Every territory has a facility on them (unless it gets destroyed) which can be used to gain advantages over the enemy, e.g. a defense facility to shield a territory or a missile facility to destroy shields. Every member has to pay daily taxes for running charges, e.g. communications between territories. This fee increases with every additional territory and member. There are two mission types in this mode: capture missions to gain more influence (respectively defending it) and theft missions to hurt another alliance without expanding. Both result in action fights.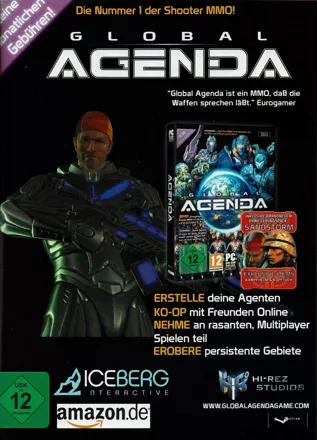 Credits (Windows version)
100 People · View all
Design & Janitorial Services
Executive Producer
VP of Game Operations
Lead Design
Lead System Architect
Lead Programmer
Lead Artist
Lead Animator
Lead Environment Artist
Lead Character Artist
Lead Technical Artist
Lead Quality Assurance
Programmers
Additional Programmers
[ full credits ]
Contribute
Know about this game? Add your expertise to help preserve this entry in video game history!
Contributors to this Entry
Game added by Patrick Bregger.
Last modified February 22nd, 2023.