Disney's Tarzan
aka: Disney: Tarzan
The adaptation of Disney's 1999 animated film Tarzan for the Game Boy Color is a side-scrolling platformer. In 23 levels, the player controls Tarzan (first as a child, later as an adult), his gorilla friend Terk, and Tarzan's love Jane.
In Tarzan's and Terk's levels, the goal is always to collect a set number of bananas, then to find their friend to exit the level. Being creatures of the jungle, Tarzan's and Terk's abilities include swinging on vines, swimming in deep water, climbing plant-covered walls and moving through even the thickest forest quickly. Various animals like baboons, warthogs, snakes and fish populate the stages and might hurt the heroes. But since Tarzan and friends don't kill other beings, the enemies should be avoided or evaded instead. Jane is not as agile as the other two characters, so in her levels, there is no vine swinging or banana collecting. She comes equipped with an umbrella, though, which can be used to drive away enemies.
In the early part of the game, there are several bonus stages: young Tarzan must escape from an elephant stampede, avoiding incoming tree boughs and collecting bananas. The game also includes two boss fights: the first against Sabor the leopardess, who killed Tarzan's parents, and the second against Clayton the gorilla hunter.
The game has a unique two-player mode called "Hide 'n 'Seek". One player places his character somewhere in the jungle, then hands the Game Boy over to a friend, who has a limited amount of time to find it. Finally, the game also supports the Game Boy printer for printing out pictures that can be created by combining different backgrounds and character graphics.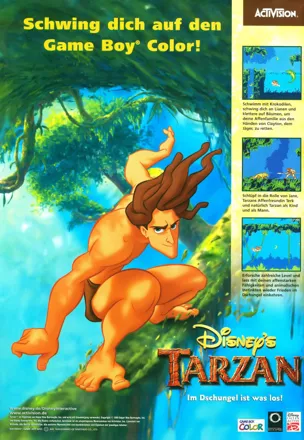 Credits (Game Boy Color version)
67 People (40 developers, 27 thanks) · View all
Director (Digital Eclipse)
Programming (Digital Eclipse)
Game Design (Digital Eclipse)
Art Director (Digital Eclipse)
Animation (Digital Eclipse)
Head Level Design (Digital Eclipse)
Level Design (Digital Eclipse)
Backgrounds (Digital Eclipse)
Music (Digital Eclipse)
Tool Programming (Digital Eclipse)
[ full credits ]
Contribute
Know about this game? Add your expertise to help preserve this entry in video game history!
Contributors to this Entry
Game added by Terok Nor.
Additional contributors: formercontrib.
Last modified March 12th, 2023.