Released

Publishers

Developers
Genre

Perspective

Pacing

Gameplay

Interface

Vehicular

Setting
Black Prophecy is a space action multiplayer game with RPG elements. The prologue is linear: the player has to survive the conflict between the Tyi (technology) and the Genides (biology). He handles missions for both factions and once he reaches level 6 he has to decide which side he wants to support in the future. Then the game becomes more open without story progression. In friendly space stations the player can accept missions which mostly result in grinding: killing a certain amount of enemies, scanning a certain amount of planets or flying to checkpoints. Most of those quests are in instances, i.e. in a especially loaded sector without other players, but there are also PvP and group missions for up to four players.
Experience points are reinvested into improving the ship, e.g. weapon systems, shields or flying maneuvers. It is important to specialise because this influences the playing style heavily. There is also a crafting system to manufacture better ship equipment with found/purchased materials and blueprints.
The game is free to play and supports itself with a item shop. In this players can purchase temporary advantages, e.g. for an experience boost or a critical success change for crafting, and optical enhancements with no effect on gameplay. In this context it is important to mention the concentration game mechanic: Every player has a certain amount of concentration points. Every action, e.g. playing a mission or repairing the ship, decreases the amount of points. Less concentration means less earned experience points and a smaller crafting success change. Concentration is fully refilled after 24 hours.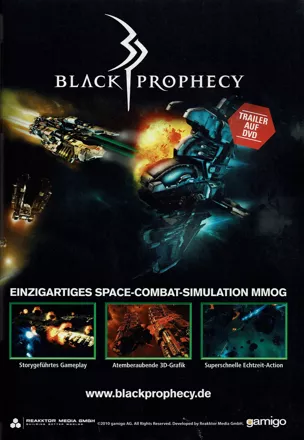 Credits (Browser version)
155 People (154 developers, 1 thanks) · View all
Dedicated to the memory of
Reakktor
CEO
Executive Producer
Producer
Project Managers
Creative Director
Technical Director
Art Director
Director Finances
Director HR
Lead Game Designers
Story by
Design
[ full credits ]
Trivia
Credits
The credits sequence plays out as vertically scrolling shooter with the developer names as enemies.
Shutdown
On August 30, 2012 it was announced that the game would be shut down on September 26, 2012.
Contribute
Know about this game? Add your expertise to help preserve this entry in video game history!
Contributors to this Entry
Game added by Patrick Bregger.
Last modified February 22nd, 2023.