Bloody Roar: Primal Fury
aka: Bloody Roar Extreme
A spin-off title in the series, Primal Fury adds new characters, arenas and special attack moves for each returning character from BR3. Improvements are also made in graphical lighting and textures.
The same control style and gameplay seen in the original three Bloody Roar titles is here, where at a touch of a button your character can morph into beasts of increased strength and ability during play. Smash through breakable arenas and perform devastating combo attacks to defeat the enemy or a friend in two-player mode.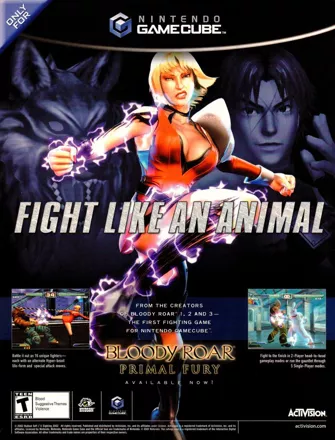 Credits (GameCube version)
162 People (142 developers, 20 thanks) · View all
Senior Associate Producer
Production Coordinator
Senior Producer
Voice Recording Director
Voice Talent
Voice Recording Facilities
QA Project Lead
QA Senior Project Lead
QA Manager, Console Testing
QA Manager, Night Shift
Floor Lead
Test Team
[ full credits ]
Trivia
Missing someone?

The character Fang is not included in the Nintendo GameCube PAL version of the game, despite being available for the Japanese version and the Xbox port (Bloody Roar: Extreme).
Golden poll

In April 2001, the official Bloody Roar Japanese website launched a poll where fans were asked what beast forms would they like to see. Among the top ten results, number 4 was a Penguin and number 7 an Elephant. The poll can be assumed to be the origin of Cronos and Ganesha. The top ten results were: a Dragon, a Bird, the Four Symbols (Azure Dragon, Vermilion Bird, White Tiger and Black Turtle), a Penguin, a Fox, a Bear, an Elephant (or a Mammoth), a Kangaroo, a Dinosaur (Tyrannosaurus) and a Snake.
Contribute
Know about this game? Add your expertise to help preserve this entry in video game history!