WWF in Your House
aka: WWF in Your House: There goes the Neighborhood!
(prices updated 10/1 10:53 AM )
Description
WWF In Your House is a successor to WWF WrestleMania: The Arcade Game. Like its predecessor, it is a hybrid of wrestling game and arcade versus fighter, with over-the-top, unrealistic moves. Concept and presentation are similar to Mortal Kombat games: digitized sprites are used to represent the wrestlers, and the game features finished moves that are performed before the final pin. There are a total of ten WWF wrestlers in the game: The British Bulldog, Goldust, Bret Hart, Owen Hart, Hunter Hearst Helmsley, Ahmed Johnson, Shawn Michaels, The Ultimate Warrior, The Undertaker, and Vader. A new four-player mode is available.
Spellings
WWFインユアハウス - Japanese spelling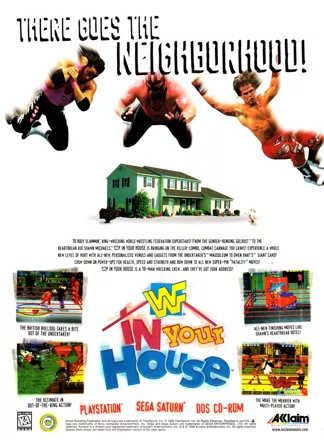 Critics
Average score: 54% (based on 16 ratings)
Players
Average score: 3.0 out of 5 (based on 17 ratings with 1 reviews)
One of the first and only worst WWF games in years

The Good
The now-defunct WWF In Your House was not just an ordinary pay-per-view, it features some great WWF wrestlers, heated rivalries, and it was the first PPV to win great prizes for one lucky fan. Although it discontinued thanks to the Attitude Era in 1997 and WWF plans to continue events without the "In Your House" name change, to this day it's still one of the best WWF PPV's of all time. In 1996, after the success of Wrestlemania: The Arcade Game, Acclaim and the WWF wanted to make a game which is based on the same name as the "In Your House" event. It did, unfortunately, it looked like a virtual clone of "Mortal Kombat."
WWF In Your House has a lot of cool features like an intro video to the game (which the theme song is from the Attitude Era's "RAW is War" generation). Also, in order to beat the game in Season mode, there's a special video package as a tribute to superstars like Bret Hart or Shawn Michaels.


The Bad
As a WWF fan watching Monday Night RAW, I think there are some annoying choices regarding to IYH. First, I felt that the commentary just wasted too much time to call outside the ring. Where's Jerry Lawler and Jim Ross? Should they call a Stone Cold Steve Austin or Bret Hart match in a Wrestlemania video game? Yes. McMahon and Mr. Perfect, not so much.
Midway should've sued both the WWF and Acclaim for not getting permission copying "Mortal Kombat" into a quiet game of chutes and ladders. Isn't it weird that the ESRB made In Your House a K-A rating instead of a Teen-rated version because of the violence that parents should even aware of?
There are only 10 wrestlers with no superstars bios and no storylines. OK, who wants to watch WCW Monday Nitro? Anyone?

The Bottom Line
It's made with 100% evil and a 50/50 chance of buying a different WWF video game. I think "In Your House" is a "Mortal Kombat" wannabe. There's a whole lot of classic WWF games that I really like. There's WWF Smackdown, WWF Smackdown 2! Know Your Role, and WWF Attitude. It's too bad that the World Wrestling Federation is now an Entertainment kid-friendly filth (not the Ruthless Aggression era, just the crappy TV-PG cesspool.) For a WWF game that is terrible on many occasions, this is the one and that's why In Your House! should've been called "Stay Away From My House and Never Ever Talk To Me Again."
PlayStation · by Kadeem Gomez (31) · 2012
Contribute
Are you familiar with this game? Help document and preserve this entry in video game history!