Kingdom O' Magic
aka: KoM
Kingdom O' Magic is a fantasy adventure game spoof - along the lines of Zork but with British humour. Play as either an unintelligible Green Lizard Guy (use subtitles) or the token female - who was intended to be humorously overproportioned although now Tomb Raider has raised the standard.
The designers intended for the game to be non-linear, and many NPCs wander around the entire map getting into fights with each other.
Entirely comedic - the troubleshooting guide in the manual discusses sexual malfunction. The dialogue trees encourage the player to be abrasive and confrontational - not doing so will cause you to miss out on much of the enjoyment, and many of the puzzles.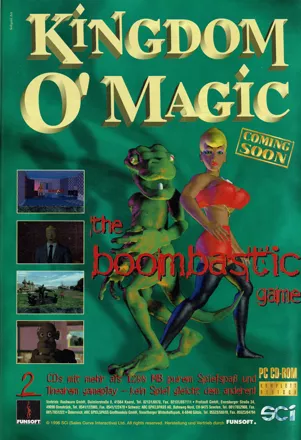 Credits (DOS version)
80 People (49 developers, 31 thanks) · View all
Into the Valley of Test rode
Project 'D' Team
SCi Corporate Identity (logo) by
Top Hollywood Producer, Live from LA
Special Agent In Charge Of Covert Programming
Top Boss, Head Honcho, Numero Uno, Big Cheese, Owner of the whole darn company including all fixtures and fittings
Game Design
Starring the talented, yet approachable
Featuring the Many Voices of
Written entirely on restaurant napkins by
[ full credits ]
Contribute
Know about this game? Add your expertise to help preserve this entry in video game history!