(prices updated 9/25 11:11 PM )
Hardball is a baseball action game for one or two players. You can throw a variety of pitches from fast balls to curve balls, steal bases, select team members, and substitute players as the game is played.
Spellings
Hard Ball - Alternate spelling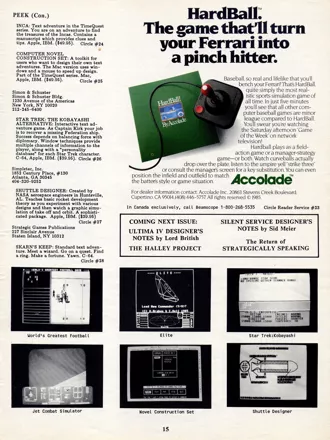 Credits (Commodore 64 version)
5 People
Designer
Graphics
Music by
Package Design

Louis Saekow Design
Galarneau & Sinn Ltd.
Critics
Average score: 72% (based on 18 ratings)
Players
Average score: 3.6 out of 5 (based on 46 ratings with 1 reviews)
The worst game I have ever played!

The Good
Tries to simulate a baseball game. Lots of neat features including pitch types, pitching locations, batting averages, field shifts, etc.

The Bad
Pretty much all of those features mentioned don't work! The game is totally unbalanced, with the "AI" cheating. The computer never swings at corner pitches and they are always a ball, making them worthless. If you throw down the center zone the computer almost always gets a hit and many times a homer, making that zone worthless. You now have 4 out of 9 zones to work with. These zones are 50/50 ball/strike or 50/50 hit/out. Players with over a .250 average bat about .900 in the game. The shift feature is broken and leaves a dead spot that no outfielder can get to and of course the computer ALWAYS hits it to that dead spot... game over. I could go on... and on about what didn't work.

The Bottom Line
As the title states, this is the worst, most frustrating game I have EVER played (and I've played a lot!). I spent weeks trying different strategies and players and options and always gave up after 6 or 7 innings with the score in the range of 29-7 computer. I thought maybe it was me so I had a friend try, he had the same results. Hardball was so bad I put the 5 1/4" floppy disk in a blender and mailed the remains back to Accolade!
DOS · by beavercleaver (6) · 2022
Trivia
Awards
Computer Gaming World

November 1996 (15th anniversary issue) – #15 Most Memorable Game Villain (Tom Frisinia)
Development
When Sean Pearce (a Choice Software employee) and Colin Gordon (Choice Software's owner) were to convert this game to ZX Spectrum and Amstrad CPC, they were given the US release of the C64 version (without source code), its manual and a NBL rules book. They converted as much code and graphics as they could and altered anything that would not convert. For example, the 'little men' on the main screen did not convert correctly so Sean Pearce reanimated them, pixel by pixel. The pitching screen was also redone due to the memory restraints of the ZX Spectrum. The same screen shows up in the Amstrad CPC version because the CPC was converted from the Speccy version.
Names
For the ZX Spectrum release, the All-Stars player names were those of the conversion team at Choice Software and their associates.
The Champs player names were other famous musicians (Jimmy HENDRIX), sports personalities (Gary LINEKER, Steve CRAM, Daley THOMPSON, Jim? CLARKE), literary characters (Dr. WATSON, HOLMES, DANTE) etc. and also Jack TRAMIEL (founder / CEO of Commodore, and later Atari).
References
In the movie The Princess Bride, Hardball was briefly shown being played by Fred Savage in his bedroom.
Sales
The game achieved the American Software Publishers Association's Platinum Award, which is granted for 250,000 games sold.
Information also contributed by LepricahnsGold
Contribute
Are you familiar with this game? Help document and preserve this entry in video game history!
Contributors to this Entry
Game added by Servo.
Commodore 64 added by Quapil. Genesis added by POMAH. Atari 8-bit, MSX, ZX Spectrum, Amstrad CPC added by Martin Smith. Macintosh, Amiga added by Terok Nor. Apple IIgs added by Игги Друге.
Additional contributors: seanp, Martin Smith, snuf, Patrick Bregger, Jo ST, 64er.
Game added August 7th, 2002. Last modified August 30th, 2023.