Based on the popular movie franchise, Friday the 13th casts you as one of six camp counselors (three girls or three boys) at the infamous Camp Crystal Lake, and you are tasked with destroying Jason Voorhees once and for all.
To get to Jason, you must run around a camp, killing zombie ghouls and collecting weapons, until you hear an alarm sound. When that alarm goes off, it means Jason has entered a cabin and you must find him.
To save time, you can switch between all six counselors, depending on where you are. Once you enter the house that Jason is in, the game switches to a 3D-esque maze in which you have to hurt Jason with the items you collected. Once he's been damaged enough, he'll run away, only to sound another alarm later and enter another house.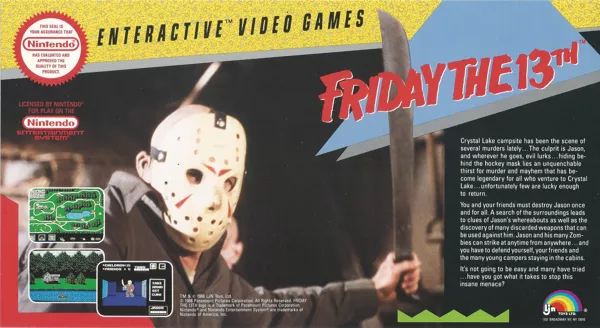 Credits (NES version)
4 People
| | |
| --- | --- |
| Production, planning, and graphics (uncredited) | |
| Programmer (uncredited) | |
| Music Composer (uncredited) | |
| Sound Driver (uncredited) | |
Trivia
Franchise
The game itself is not based off of one movie in the series. Rather, a combination of the first 7 films and developer 'creativity':
The opening title screen with Jason's mask is taken from the poster for Friday The 13th Part 4: The Final Chapter

Jason never acquired his mask until Part 3.

The version of Jason depicted on the box cover is from Part 7: The New Blood. Part 8 was out in theatres when the game was released.

Other than Jason and his mother, none of the other characters in the game are found in the films
Furthermore, the storyline for the game is separate from the films and is an inconsistent one, as Jason is supposed to be after the camp counsellors, not the children (amongst other things).
Awards
Electronic Gaming Monthly

December 1989 (Issue 5) - Worst Movie to Game
November 1997 (Issue 100) - ranked #8 (Worst 10 Games of All Time)
Contribute
Know about this game? Add your expertise to help preserve this entry in video game history!