The former fighting champion and corrupt oligarch Heihachi Mishima is attempting to achieve immortality. To do so, he needs the Devil gene, possessed by both his son Kazuya, whose body is stored in the labs of the G Corporation, and his grandson Jin. However, Heihachi's Tekken Force is defeated by the resurrected Kazuya. Meanwhile, Jin goes into a self-imposed exile. In order to lure Kazuya and Jin out, Heihachi announces the fourth King of the Iron Fist championship, the final prize being the ownership of his corporation.
Tekken 4 contains twenty playable characters, four of whom are new. New strategies in fighting are introduced with the addition of walls, terrain effects, position changes, and enhanced side-stepping. In total there are nine gameplay modes, including a new Training mode and the Tekken Force game.
Spellings
铁拳4 - Chinese spelling (simplified)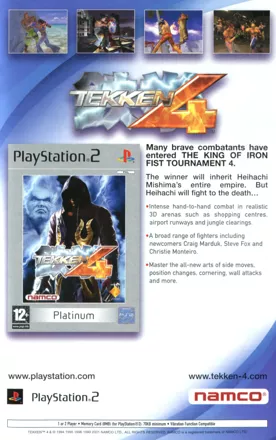 Credits (PlayStation 2 version)
161 People (143 developers, 18 thanks) · View all
Project Directors
Localization Director
Program Director
System Programmer
Game Programmer
Character Model Programmers
Stage Model Programmers
Motion Programmer
''TEKKEN FORCE'' Programmer
2D Object Programmers
Effect Programmers
2D Object Management
3D Effects Programmer
Camera Programmer
Program Technical Support
Art Director
[ full credits ]
Trivia
On August 31, 2003 has Tekken 4 (PS2) won the Gold-Award from the German VUD (Verband der Unterhaltungssoftware Deutschland - Entertainment Software Association Germany) for selling more then 100,000 (but less then 200,000) units in Germany, Austria and Switzerland.
Related Sites +
Tekken Zaibatsu
Great fan page with information on Tekken 4, including FAQs, secrets, soundtrack info etc.
Contribute
Know about this game? Add your expertise to help preserve this entry in video game history!